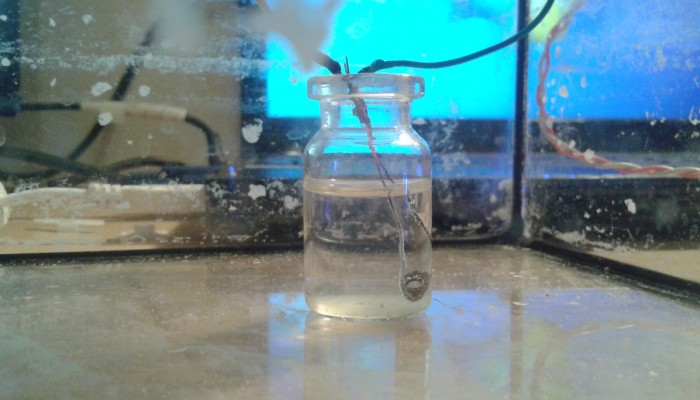 Today i have made little experiment, to discover what is simple way to raise humidity in enclosed small space.
More precise goal was to check is it can be done easily using water evaporation.
I have put things to small aquarium:
Humidity sensor (dht22);
Sensor attached to Arduino UNO;
Small bottle of water;
In the water submerged nichroma wire;
Wire attached to digispark like micro and connected via PC power supply.
Power: ~3A (12V);
Dimensions of aquarium: 17cm x 16cm x 23cm;
Parameters in the container before experiment:
Humidity: 50.00 %    Temperature: 21.00 *C
Parameters in the container after experiment (time it took: ~15min):
Humidity: 91.50 %    Temperature: 25.00 *C
Conclusion:
Humidity is raising fast and in controlled manner.
Advantages to using ultrasonic humidifier:
More reliable. Previous tests show that cheap ultrasonic humidifier fail if left for long time unused then submerged.
If working with below zero (C) temperatures mechanics needed to protect from freezing.
Disadvantages to using ultrasonic humidifier:
High energy consumption. (~3A at 12V)
Raising temperature in container
Enclosing materials have to be heat resistant.
Here is data i have obtained:
DATA:
%    TDHTxx test!
Humidity: 45.30 %    Temperature: 21.20 *C
Humidity: 45.30 %    Temperature: 21.20 *C
Humidity: 45.30 %    Temperature: 21.20 *C
Humidity: 45.30 %    Temperature: 21.20 *C
Humidity: 45.50 %    Temperature: 21.20 *C
Humidity: 45.50 %    Temperature: 21.20 *C
Humidity: 45.50 %    Temperature: 21.20 *C
Humidity: 45.50 %    Temperature: 21.20 *C
Humidity: 45.60 %    Temperature: 21.20 *C
Humidity: 45.60 %    Temperature: 21.20 *C
Humidity: 45.60 %    Temperature: 21.20 *C
Humidity: 45.60 %    Temperature: 21.20 *C
Humidity: 45.70 %    Temperature: 21.20 *C
Humidity: 45.70 %    Temperature: 21.20 *C
Humidity: 45.70 %    Temperature: 21.20 *C
Humidity: 45.70 %    Temperature: 21.20 *C
Humidity: 45.80 %    Temperature: 21.10 *C
Humidity: 45.80 %    Temperature: 21.10 *C
Humidity: 45.80 %    Temperature: 21.10 *C
Humidity: 45.80 %    Temperature: 21.10 *C
Humidity: 45.90 %    Temperature: 21.10 *C
Humidity: 45.90 %    Temperature: 21.10 *C
Humidity: 45.90 %    Temperature: 21.10 *C
Humidity: 45.90 %    Temperature: 21.10 *C
Humidity: 46.10 %    Temperature: 21.10 *C
Humidity: 46.10 %    Temperature: 21.10 *C
Humidity: 46.10 %    Temperature: 21.10 *C
Humidity: 46.10 %    Temperature: 21.10 *C
Humidity: 46.20 %    Temperature: 21.10 *C
Humidity: 46.20 %    Temperature: 21.10 *C
Humidity: 46.20 %    Temperature: 21.10 *C
Humidity: 46.20 %    Temperature: 21.10 *C
Humidity: 46.20 %    Temperature: 21.10 *C
Humidity: 46.20 %    Temperature: 21.10 *C
Humidity: 46.20 %    Temperature: 21.10 *C
Humidity: 46.20 %    Temperature: 21.10 *C
Humidity: 46.40 %    Temperature: 21.10 *C
Humidity: 46.40 %    Temperature: 21.10 *C
Humidity: 46.40 %    Temperature: 21.10 *C
Humidity: 46.40 %    Temperature: 21.10 *C
Humidity: 46.40 %    Temperature: 21.10 *C
Humidity: 46.40 %    Temperature: 21.10 *C
Humidity: 46.40 %    Temperature: 21.10 *C
Humidity: 46.40 %    Temperature: 21.10 *C
Humidity: 46.40 %    Temperature: 21.10 *C
Humidity: 46.40 %    Temperature: 21.10 *C
Humidity: 46.40 %    Temperature: 21.10 *C
Humidity: 46.40 %    Temperature: 21.10 *C
Humidity: 46.60 %    Temperature: 21.10 *C
Humidity: 46.60 %    Temperature: 21.10 *C
Humidity: 46.60 %    Temperature: 21.10 *C
Humidity: 46.60 %    Temperature: 21.10 *C
Humidity: 46.60 %    Temperature: 21.10 *C
Humidity: 46.60 %    Temperature: 21.10 *C
Humidity: 46.60 %    Temperature: 21.10 *C
Humidity: 46.60 %    Temperature: 21.10 *C
Humidity: 46.70 %    Temperature: 21.10 *C
Humidity: 46.70 %    Temperature: 21.10 *C
Humidity: 46.70 %    Temperature: 21.10 *C
Humidity: 46.70 %    Temperature: 21.10 *C
Humidity: 46.70 %    Temperature: 21.10 *C
Humidity: 46.70 %    Temperature: 21.10 *C
Humidity: 46.70 %    Temperature: 21.10 *C
Humidity: 46.70 %    Temperature: 21.10 *C
Humidity: 46.80 %    Temperature: 21.10 *C
Humidity: 46.80 %    Temperature: 21.10 *C
Humidity: 46.80 %    Temperature: 21.10 *C
Humidity: 46.80 %    Temperature: 21.10 *C
Humidity: 46.90 %    Temperature: 21.10 *C
Humidity: 46.90 %    Temperature: 21.10 *C
Humidity: 46.90 %    Temperature: 21.10 *C
Humidity: 46.90 %    Temperature: 21.10 *C
Humidity: 47.00 %    Temperature: 21.10 *C
Humidity: 47.00 %    Temperature: 21.10 *C
Humidity: 47.00 %    Temperature: 21.10 *C
Humidity: 47.00 %    Temperature: 21.10 *C
Humidity: 46.90 %    Temperature: 21.00 *C
Humidity: 46.90 %    Temperature: 21.00 *C
Humidity: 46.90 %    Temperature: 21.00 *C
Humidity: 46.90 %    Temperature: 21.00 *C
Humidity: 47.10 %    Temperature: 21.10 *C
Humidity: 47.10 %    Temperature: 21.10 *C
Humidity: 47.10 %    Temperature: 21.10 *C
Humidity: 47.10 %    Temperature: 21.10 *C
Humidity: 47.10 %    Temperature: 21.00 *C
Humidity: 47.10 %    Temperature: 21.00 *C
Humidity: 47.10 %    Temperature: 21.00 *C
Humidity: 47.10 %    Temperature: 21.00 *C
Humidity: 47.20 %    Temperature: 21.10 *C
Humidity: 47.20 %    Temperature: 21.10 *C
Humidity: 47.20 %    Temperature: 21.10 *C
Humidity: 47.20 %    Temperature: 21.10 *C
Humidity: 47.20 %    Temperature: 21.00 *C
Humidity: 47.20 %    Temperature: 21.00 *C
Humidity: 47.20 %    Temperature: 21.00 *C
Humidity: 47.20 %    Temperature: 21.00 *C
Humidity: 47.20 %    Temperature: 21.00 *C
Humidity: 47.20 %    Temperature: 21.00 *C
Humidity: 47.20 %    Temperature: 21.00 *C
Humidity: 47.20 %    Temperature: 21.00 *C
Humidity: 47.30 %    Temperature: 21.00 *C
Humidity: 47.30 %    Temperature: 21.00 *C
Humidity: 47.30 %    Temperature: 21.00 *C
Humidity: 47.30 %    Temperature: 21.00 *C
Humidity: 47.30 %    Temperature: 21.00 *C
Humidity: 47.30 %    Temperature: 21.00 *C
Humidity: 47.30 %    Temperature: 21.00 *C
Humidity: 47.30 %    Temperature: 21.00 *C
Humidity: 47.40 %    Temperature: 21.00 *C
Humidity: 47.40 %    Temperature: 21.00 *C
Humidity: 47.40 %    Temperature: 21.00 *C
Humidity: 47.40 %    Temperature: 21.00 *C
Humidity: 47.50 %    Temperature: 21.00 *C
Humidity: 47.50 %    Temperature: 21.00 *C
Humidity: 47.50 %    Temperature: 21.00 *C
Humidity: 47.50 %    Temperature: 21.00 *C
Humidity: 47.50 %    Temperature: 21.00 *C
Humidity: 47.50 %    Temperature: 21.00 *C
Humidity: 47.50 %    Temperature: 21.00 *C
Humidity: 47.50 %    Temperature: 21.00 *C
Humidity: 47.60 %    Temperature: 21.00 *C
Humidity: 47.60 %    Temperature: 21.00 *C
Humidity: 47.60 %    Temperature: 21.00 *C
Humidity: 47.60 %    Temperature: 21.00 *C
Humidity: 47.60 %    Temperature: 21.00 *C
Humidity: 47.60 %    Temperature: 21.00 *C
Humidity: 47.60 %    Temperature: 21.00 *C
Humidity: 47.60 %    Temperature: 21.00 *C
Humidity: 47.70 %    Temperature: 21.00 *C
Humidity: 47.70 %    Temperature: 21.00 *C
Humidity: 47.70 %    Temperature: 21.00 *C
Humidity: 47.70 %    Temperature: 21.00 *C
Humidity: 47.70 %    Temperature: 21.00 *C
Humidity: 47.70 %    Temperature: 21.00 *C
Humidity: 47.70 %    Temperature: 21.00 *C
Humidity: 47.70 %    Temperature: 21.00 *C
Humidity: 47.80 %    Temperature: 21.00 *C
Humidity: 47.80 %    Temperature: 21.00 *C
Humidity: 47.80 %    Temperature: 21.00 *C
Humidity: 47.80 %    Temperature: 21.00 *C
Humidity: 47.80 %    Temperature: 21.00 *C
Humidity: 47.80 %    Temperature: 21.00 *C
Humidity: 47.80 %    Temperature: 21.00 *C
Humidity: 47.80 %    Temperature: 21.00 *C
Humidity: 47.90 %    Temperature: 21.00 *C
Humidity: 47.90 %    Temperature: 21.00 *C
Humidity: 47.90 %    Temperature: 21.00 *C
Humidity: 47.90 %    Temperature: 21.00 *C
Humidity: 47.90 %    Temperature: 21.00 *C
Humidity: 47.90 %    Temperature: 21.00 *C
Humidity: 47.90 %    Temperature: 21.00 *C
Humidity: 47.90 %    Temperature: 21.00 *C
Humidity: 48.00 %    Temperature: 21.00 *C
Humidity: 48.00 %    Temperature: 21.00 *C
Humidity: 48.00 %    Temperature: 21.00 *C
Humidity: 48.00 %    Temperature: 21.00 *C
Humidity: 48.00 %    Temperature: 21.00 *C
Humidity: 48.00 %    Temperature: 21.00 *C
Humidity: 48.00 %    Temperature: 21.00 *C
Humidity: 48.00 %    Temperature: 21.00 *C
Humidity: 48.00 %    Temperature: 21.00 *C
Humidity: 48.00 %    Temperature: 21.00 *C
Humidity: 48.00 %    Temperature: 21.00 *C
Humidity: 48.00 %    Temperature: 21.00 *C
Humidity: 48.10 %    Temperature: 21.00 *C
Humidity: 48.10 %    Temperature: 21.00 *C
Humidity: 48.10 %    Temperature: 21.00 *C
Humidity: 48.10 %    Temperature: 21.00 *C
Humidity: 48.10 %    Temperature: 21.00 *C
Humidity: 48.10 %    Temperature: 21.00 *C
Humidity: 48.10 %    Temperature: 21.00 *C
Humidity: 48.10 %    Temperature: 21.00 *C
Humidity: 48.20 %    Temperature: 21.00 *C
Humidity: 48.20 %    Temperature: 21.00 *C
Humidity: 48.20 %    Temperature: 21.00 *C
Humidity: 48.20 %    Temperature: 21.00 *C
Humidity: 48.20 %    Temperature: 21.00 *C
Humidity: 48.20 %    Temperature: 21.00 *C
Humidity: 48.20 %    Temperature: 21.00 *C
Humidity: 48.20 %    Temperature: 21.00 *C
Humidity: 48.30 %    Temperature: 21.00 *C
Humidity: 48.30 %    Temperature: 21.00 *C
Humidity: 48.30 %    Temperature: 21.00 *C
Humidity: 48.30 %    Temperature: 21.00 *C
Humidity: 48.30 %    Temperature: 21.00 *C
Humidity: 48.30 %    Temperature: 21.00 *C
Humidity: 48.30 %    Temperature: 21.00 *C
Humidity: 48.30 %    Temperature: 21.00 *C
Humidity: 48.40 %    Temperature: 21.00 *C
Humidity: 48.40 %    Temperature: 21.00 *C
Humidity: 48.40 %    Temperature: 21.00 *C
Humidity: 48.40 %    Temperature: 21.00 *C
Humidity: 48.40 %    Temperature: 21.00 *C
Humidity: 48.40 %    Temperature: 21.00 *C
Humidity: 48.40 %    Temperature: 21.00 *C
Humidity: 48.40 %    Temperature: 21.00 *C
Humidity: 48.50 %    Temperature: 20.90 *C
Humidity: 48.50 %    Temperature: 20.90 *C
Humidity: 48.50 %    Temperature: 20.90 *C
Humidity: 48.50 %    Temperature: 20.90 *C
Humidity: 48.50 %    Temperature: 20.90 *C
Humidity: 48.50 %    Temperature: 20.90 *C
Humidity: 48.50 %    Temperature: 20.90 *C
Humidity: 48.50 %    Temperature: 20.90 *C
Humidity: 48.50 %    Temperature: 21.00 *C
Humidity: 48.50 %    Temperature: 21.00 *C
Humidity: 48.50 %    Temperature: 21.00 *C
Humidity: 48.50 %    Temperature: 21.00 *C
Humidity: 48.60 %    Temperature: 20.90 *C
Humidity: 48.60 %    Temperature: 20.90 *C
Humidity: 48.60 %    Temperature: 20.90 *C
Humidity: 48.60 %    Temperature: 20.90 *C
Humidity: 48.70 %    Temperature: 20.90 *C
Humidity: 48.70 %    Temperature: 20.90 *C
Humidity: 48.70 %    Temperature: 20.90 *C
Humidity: 48.70 %    Temperature: 20.90 *C
Humidity: 48.60 %    Temperature: 20.90 *C
Humidity: 48.60 %    Temperature: 20.90 *C
Humidity: 48.60 %    Temperature: 20.90 *C
Humidity: 48.60 %    Temperature: 20.90 *C
Humidity: 48.70 %    Temperature: 20.90 *C
Humidity: 48.70 %    Temperature: 20.90 *C
Humidity: 48.70 %    Temperature: 20.90 *C
Humidity: 48.70 %    Temperature: 20.90 *C
Humidity: 48.70 %    Temperature: 21.00 *C
Humidity: 48.70 %    Temperature: 21.00 *C
Humidity: 48.70 %    Temperature: 21.00 *C
Humidity: 48.70 %    Temperature: 21.00 *C
Humidity: 48.80 %    Temperature: 20.90 *C
Humidity: 48.80 %    Temperature: 20.90 *C
Humidity: 48.80 %    Temperature: 20.90 *C
Humidity: 48.80 %    Temperature: 20.90 *C
Humidity: 48.80 %    Temperature: 20.90 *C
Humidity: 48.80 %    Temperature: 20.90 *C
Humidity: 48.80 %    Temperature: 20.90 *C
Humidity: 48.80 %    Temperature: 20.90 *C
Humidity: 48.80 %    Temperature: 20.90 *C
Humidity: 48.80 %    Temperature: 20.90 *C
Humidity: 48.80 %    Temperature: 20.90 *C
Humidity: 48.80 %    Temperature: 20.90 *C
Humidity: 48.90 %    Temperature: 20.90 *C
Humidity: 48.90 %    Temperature: 20.90 *C
Humidity: 48.90 %    Temperature: 20.90 *C
Humidity: 48.90 %    Temperature: 20.90 *C
Humidity: 48.90 %    Temperature: 21.00 *C
Humidity: 48.90 %    Temperature: 21.00 *C
Humidity: 48.90 %    Temperature: 21.00 *C
Humidity: 48.90 %    Temperature: 21.00 *C
Humidity: 49.00 %    Temperature: 21.00 *C
Humidity: 49.00 %    Temperature: 21.00 *C
Humidity: 49.00 %    Temperature: 21.00 *C
Humidity: 49.00 %    Temperature: 21.00 *C
Humidity: 49.00 %    Temperature: 20.90 *C
Humidity: 49.00 %    Temperature: 20.90 *C
Humidity: 49.00 %    Temperature: 20.90 *C
Humidity: 49.00 %    Temperature: 20.90 *C
Humidity: 49.00 %    Temperature: 20.90 *C
Humidity: 49.00 %    Temperature: 20.90 *C
Humidity: 49.00 %    Temperature: 20.90 *C
Humidity: 49.00 %    Temperature: 20.90 *C
Humidity: 49.10 %    Temperature: 20.90 *C
Humidity: 49.10 %    Temperature: 20.90 *C
Humidity: 49.10 %    Temperature: 20.90 *C
Humidity: 49.10 %    Temperature: 20.90 *C
Humidity: 49.10 %    Temperature: 21.00 *C
Humidity: 49.10 %    Temperature: 21.00 *C
Humidity: 49.10 %    Temperature: 21.00 *C
Humidity: 49.10 %    Temperature: 21.00 *C
Humidity: 49.20 %    Temperature: 21.00 *C
Humidity: 49.20 %    Temperature: 21.00 *C
Humidity: 49.20 %    Temperature: 21.00 *C
Humidity: 49.20 %    Temperature: 21.00 *C
Humidity: 49.20 %    Temperature: 20.90 *C
Humidity: 49.20 %    Temperature: 20.90 *C
Humidity: 49.20 %    Temperature: 20.90 *C
Humidity: 49.20 %    Temperature: 20.90 *C
Humidity: 49.20 %    Temperature: 20.90 *C
Humidity: 49.20 %    Temperature: 20.90 *C
Humidity: 49.20 %    Temperature: 20.90 *C
Humidity: 49.20 %    Temperature: 20.90 *C
Humidity: 49.30 %    Temperature: 20.90 *C
Humidity: 49.30 %    Temperature: 20.90 *C
Humidity: 49.30 %    Temperature: 20.90 *C
Humidity: 49.30 %    Temperature: 20.90 *C
Humidity: 49.30 %    Temperature: 20.90 *C
Humidity: 49.30 %    Temperature: 20.90 *C
Humidity: 49.30 %    Temperature: 20.90 *C
Humidity: 49.30 %    Temperature: 20.90 *C
Humidity: 49.30 %    Temperature: 20.90 *C
Humidity: 49.30 %    Temperature: 20.90 *C
Humidity: 49.30 %    Temperature: 20.90 *C
Humidity: 49.30 %    Temperature: 20.90 *C
Humidity: 49.40 %    Temperature: 20.90 *C
Humidity: 49.40 %    Temperature: 20.90 *C
Humidity: 49.40 %    Temperature: 20.90 *C
Humidity: 49.40 %    Temperature: 20.90 *C
Humidity: 49.40 %    Temperature: 20.90 *C
Humidity: 49.40 %    Temperature: 20.90 *C
Humidity: 49.40 %    Temperature: 20.90 *C
Humidity: 49.40 %    Temperature: 20.90 *C
Humidity: 49.40 %    Temperature: 20.90 *C
Humidity: 49.40 %    Temperature: 20.90 *C
Humidity: 49.40 %    Temperature: 20.90 *C
Humidity: 49.40 %    Temperature: 20.90 *C
Humidity: 49.40 %    Temperature: 20.90 *C
Humidity: 49.40 %    Temperature: 20.90 *C
Humidity: 49.40 %    Temperature: 20.90 *C
Humidity: 49.40 %    Temperature: 20.90 *C
Humidity: 49.50 %    Temperature: 21.00 *C
Humidity: 49.50 %    Temperature: 21.00 *C
Humidity: 49.50 %    Temperature: 21.00 *C
Humidity: 49.50 %    Temperature: 21.00 *C
Humidity: 49.50 %    Temperature: 21.00 *C
Humidity: 49.50 %    Temperature: 21.00 *C
Humidity: 49.50 %    Temperature: 21.00 *C
Humidity: 49.50 %    Temperature: 21.00 *C
Humidity: 49.50 %    Temperature: 20.90 *C
Humidity: 49.50 %    Temperature: 20.90 *C
Humidity: 49.50 %    Temperature: 20.90 *C
Humidity: 49.50 %    Temperature: 20.90 *C
Humidity: 49.60 %    Temperature: 20.90 *C
Humidity: 49.60 %    Temperature: 20.90 *C
Humidity: 49.60 %    Temperature: 20.90 *C
Humidity: 49.60 %    Temperature: 20.90 *C
Humidity: 49.60 %    Temperature: 21.00 *C
Humidity: 49.60 %    Temperature: 21.00 *C
Humidity: 49.60 %    Temperature: 21.00 *C
Humidity: 49.60 %    Temperature: 21.00 *C
Humidity: 49.60 %    Temperature: 20.90 *C
Humidity: 49.60 %    Temperature: 20.90 *C
Humidity: 49.60 %    Temperature: 20.90 *C
Humidity: 49.60 %    Temperature: 20.90 *C
Humidity: 49.70 %    Temperature: 20.90 *C
Humidity: 49.70 %    Temperature: 20.90 *C
Humidity: 49.70 %    Temperature: 20.90 *C
Humidity: 49.70 %    Temperature: 20.90 *C
Humidity: 49.70 %    Temperature: 21.00 *C
Humidity: 49.70 %    Temperature: 21.00 *C
Humidity: 49.70 %    Temperature: 21.00 *C
Humidity: 49.70 %    Temperature: 21.00 *C
Humidity: 49.70 %    Temperature: 20.90 *C
Humidity: 49.70 %    Temperature: 20.90 *C
Humidity: 49.70 %    Temperature: 20.90 *C
Humidity: 49.70 %    Temperature: 20.90 *C
Humidity: 49.70 %    Temperature: 20.90 *C
Humidity: 49.70 %    Temperature: 20.90 *C
Humidity: 49.70 %    Temperature: 20.90 *C
Humidity: 49.70 %    Temperature: 20.90 *C
Humidity: 49.80 %    Temperature: 20.90 *C
Humidity: 49.80 %    Temperature: 20.90 *C
Humidity: 49.80 %    Temperature: 20.90 *C
Humidity: 49.80 %    Temperature: 20.90 *C
Humidity: 49.80 %    Temperature: 20.90 *C
Humidity: 49.80 %    Temperature: 20.90 *C
Humidity: 49.80 %    Temperature: 20.90 *C
Humidity: 49.80 %    Temperature: 20.90 *C
Humidity: 49.80 %    Temperature: 20.90 *C
Humidity: 49.80 %    Temperature: 20.90 *C
Humidity: 49.80 %    Temperature: 20.90 *C
Humidity: 49.80 %    Temperature: 20.90 *C
Humidity: 49.90 %    Temperature: 20.90 *C
Humidity: 49.90 %    Temperature: 20.90 *C
Humidity: 49.90 %    Temperature: 20.90 *C
Humidity: 49.90 %    Temperature: 20.90 *C
Humidity: 49.90 %    Temperature: 20.90 *C
Humidity: 49.90 %    Temperature: 20.90 *C
Humidity: 49.90 %    Temperature: 20.90 *C
Humidity: 49.90 %    Temperature: 20.90 *C
Humidity: 49.90 %    Temperature: 20.90 *C
Humidity: 49.90 %    Temperature: 20.90 *C
Humidity: 49.90 %    Temperature: 20.90 *C
Humidity: 49.90 %    Temperature: 20.90 *C
Humidity: 49.90 %    Temperature: 20.90 *C
Humidity: 49.90 %    Temperature: 20.90 *C
Humidity: 49.90 %    Temperature: 20.90 *C
Humidity: 49.90 %    Temperature: 20.90 *C

Heater powered ON.

Humidity: 50.00 %    Temperature: 21.00 *C
Humidity: 50.00 %    Temperature: 21.00 *C
Humidity: 50.00 %    Temperature: 21.00 *C
Humidity: 50.00 %    Temperature: 21.00 *C
Humidity: 50.00 %    Temperature: 20.90 *C
Humidity: 50.00 %    Temperature: 20.90 *C
Humidity: 50.00 %    Temperature: 20.90 *C
Humidity: 50.00 %    Temperature: 20.90 *C
Humidity: 50.00 %    Temperature: 20.90 *C
Humidity: 50.00 %    Temperature: 20.90 *C
Humidity: 50.00 %    Temperature: 20.90 *C
Humidity: 50.00 %    Temperature: 20.90 *C
Humidity: 50.00 %    Temperature: 20.90 *C
Humidity: 50.00 %    Temperature: 20.90 *C
Humidity: 50.00 %    Temperature: 20.90 *C
Humidity: 50.00 %    Temperature: 20.90 *C
Humidity: 50.10 %    Temperature: 20.90 *C
Humidity: 50.10 %    Temperature: 20.90 *C
Humidity: 50.10 %    Temperature: 20.90 *C
Humidity: 50.10 %    Temperature: 20.90 *C
Humidity: 50.10 %    Temperature: 20.90 *C
Humidity: 50.10 %    Temperature: 20.90 *C
Humidity: 50.10 %    Temperature: 20.90 *C
Humidity: 50.10 %    Temperature: 20.90 *C
Humidity: 50.10 %    Temperature: 20.90 *C
Humidity: 50.10 %    Temperature: 20.90 *C
Humidity: 50.10 %    Temperature: 20.90 *C
Humidity: 50.10 %    Temperature: 20.90 *C
Humidity: 50.10 %    Temperature: 20.90 *C
Humidity: 50.10 %    Temperature: 20.90 *C
Humidity: 50.10 %    Temperature: 20.90 *C
Humidity: 50.10 %    Temperature: 20.90 *C
Humidity: 50.20 %    Temperature: 20.90 *C
Humidity: 50.20 %    Temperature: 20.90 *C
Humidity: 50.20 %    Temperature: 20.90 *C
Humidity: 50.20 %    Temperature: 20.90 *C
Humidity: 50.20 %    Temperature: 20.90 *C
Humidity: 50.20 %    Temperature: 20.90 *C
Humidity: 50.20 %    Temperature: 20.90 *C
Humidity: 50.20 %    Temperature: 20.90 *C
Humidity: 50.20 %    Temperature: 20.90 *C
Humidity: 50.20 %    Temperature: 20.90 *C
Humidity: 50.20 %    Temperature: 20.90 *C
Humidity: 50.20 %    Temperature: 20.90 *C
Humidity: 50.20 %    Temperature: 20.90 *C
Humidity: 50.20 %    Temperature: 20.90 *C
Humidity: 50.20 %    Temperature: 20.90 *C
Humidity: 50.20 %    Temperature: 20.90 *C
Humidity: 50.30 %    Temperature: 20.90 *C
Humidity: 50.30 %    Temperature: 20.90 *C
Humidity: 50.30 %    Temperature: 20.90 *C
Humidity: 50.30 %    Temperature: 20.90 *C
Humidity: 50.30 %    Temperature: 20.90 *C
Humidity: 50.30 %    Temperature: 20.90 *C
Humidity: 50.30 %    Temperature: 20.90 *C
Humidity: 50.30 %    Temperature: 20.90 *C
Humidity: 50.30 %    Temperature: 20.90 *C
Humidity: 50.30 %    Temperature: 20.90 *C
Humidity: 50.30 %    Temperature: 20.90 *C
Humidity: 50.30 %    Temperature: 20.90 *C
Humidity: 50.30 %    Temperature: 20.90 *C
Humidity: 50.30 %    Temperature: 20.90 *C
Humidity: 50.30 %    Temperature: 20.90 *C
Humidity: 50.30 %    Temperature: 20.90 *C
Humidity: 50.40 %    Temperature: 20.90 *C
Humidity: 50.40 %    Temperature: 20.90 *C
Humidity: 50.40 %    Temperature: 20.90 *C
Humidity: 50.40 %    Temperature: 20.90 *C
Humidity: 50.40 %    Temperature: 20.90 *C
Humidity: 50.40 %    Temperature: 20.90 *C
Humidity: 50.40 %    Temperature: 20.90 *C
Humidity: 50.40 %    Temperature: 20.90 *C
Humidity: 50.40 %    Temperature: 20.90 *C
Humidity: 50.40 %    Temperature: 20.90 *C
Humidity: 50.40 %    Temperature: 20.90 *C
Humidity: 50.40 %    Temperature: 20.90 *C
Humidity: 50.40 %    Temperature: 20.90 *C
Humidity: 50.40 %    Temperature: 20.90 *C
Humidity: 50.40 %    Temperature: 20.90 *C
Humidity: 50.40 %    Temperature: 20.90 *C
Humidity: 50.50 %    Temperature: 20.90 *C
Humidity: 50.50 %    Temperature: 20.90 *C
Humidity: 50.50 %    Temperature: 20.90 *C
Humidity: 50.50 %    Temperature: 20.90 *C
Humidity: 50.50 %    Temperature: 20.90 *C
Humidity: 50.50 %    Temperature: 20.90 *C
Humidity: 50.50 %    Temperature: 20.90 *C
Humidity: 50.50 %    Temperature: 20.90 *C
Humidity: 50.50 %    Temperature: 20.90 *C
Humidity: 50.50 %    Temperature: 20.90 *C
Humidity: 50.50 %    Temperature: 20.90 *C
Humidity: 50.50 %    Temperature: 20.90 *C
Humidity: 50.50 %    Temperature: 20.90 *C
Humidity: 50.50 %    Temperature: 20.90 *C
Humidity: 50.50 %    Temperature: 20.90 *C
Humidity: 50.50 %    Temperature: 20.90 *C
Humidity: 50.50 %    Temperature: 20.90 *C
Humidity: 50.50 %    Temperature: 20.90 *C
Humidity: 50.50 %    Temperature: 20.90 *C
Humidity: 50.50 %    Temperature: 20.90 *C
Humidity: 50.50 %    Temperature: 20.90 *C
Humidity: 50.50 %    Temperature: 20.90 *C
Humidity: 50.50 %    Temperature: 20.90 *C
Humidity: 50.50 %    Temperature: 20.90 *C
Humidity: 50.60 %    Temperature: 20.90 *C
Humidity: 50.60 %    Temperature: 20.90 *C
Humidity: 50.60 %    Temperature: 20.90 *C
Humidity: 50.60 %    Temperature: 20.90 *C
Humidity: 50.60 %    Temperature: 20.90 *C
Humidity: 50.60 %    Temperature: 20.90 *C
Humidity: 50.60 %    Temperature: 20.90 *C
Humidity: 50.60 %    Temperature: 20.90 *C
Humidity: 50.60 %    Temperature: 20.90 *C
Humidity: 50.60 %    Temperature: 20.90 *C
Humidity: 50.60 %    Temperature: 20.90 *C
Humidity: 50.60 %    Temperature: 20.90 *C
Humidity: 50.60 %    Temperature: 20.90 *C
Humidity: 50.60 %    Temperature: 20.90 *C
Humidity: 50.60 %    Temperature: 20.90 *C
Humidity: 50.60 %    Temperature: 20.90 *C
Humidity: 50.60 %    Temperature: 20.90 *C
Humidity: 50.60 %    Temperature: 20.90 *C
Humidity: 50.60 %    Temperature: 20.90 *C
Humidity: 50.60 %    Temperature: 20.90 *C
Humidity: 50.70 %    Temperature: 20.90 *C
Humidity: 50.70 %    Temperature: 20.90 *C
Humidity: 50.70 %    Temperature: 20.90 *C
Humidity: 50.70 %    Temperature: 20.90 *C
Humidity: 50.70 %    Temperature: 20.90 *C
Humidity: 50.70 %    Temperature: 20.90 *C
Humidity: 50.70 %    Temperature: 20.90 *C
Humidity: 50.70 %    Temperature: 20.90 *C
Humidity: 50.70 %    Temperature: 20.90 *C
Humidity: 50.70 %    Temperature: 20.90 *C
Humidity: 50.70 %    Temperature: 20.90 *C
Humidity: 50.70 %    Temperature: 20.90 *C
Humidity: 50.70 %    Temperature: 20.90 *C
Humidity: 50.70 %    Temperature: 20.90 *C
Humidity: 50.70 %    Temperature: 20.90 *C
Humidity: 50.70 %    Temperature: 20.90 *C
Humidity: 50.70 %    Temperature: 20.90 *C
Humidity: 50.70 %    Temperature: 20.90 *C
Humidity: 50.70 %    Temperature: 20.90 *C
Humidity: 50.70 %    Temperature: 20.90 *C
Humidity: 50.70 %    Temperature: 20.90 *C
Humidity: 50.70 %    Temperature: 20.90 *C
Humidity: 50.70 %    Temperature: 20.90 *C
Humidity: 50.70 %    Temperature: 20.90 *C
Humidity: 50.80 %    Temperature: 20.90 *C
Humidity: 50.80 %    Temperature: 20.90 *C
Humidity: 50.80 %    Temperature: 20.90 *C
Humidity: 50.80 %    Temperature: 20.90 *C
Humidity: 50.80 %    Temperature: 20.90 *C
Humidity: 50.80 %    Temperature: 20.90 *C
Humidity: 50.80 %    Temperature: 20.90 *C
Humidity: 50.80 %    Temperature: 20.90 *C
Humidity: 50.80 %    Temperature: 20.90 *C
Humidity: 50.80 %    Temperature: 20.90 *C
Humidity: 50.80 %    Temperature: 20.90 *C
Humidity: 50.80 %    Temperature: 20.90 *C
Humidity: 50.80 %    Temperature: 20.90 *C
Humidity: 50.80 %    Temperature: 20.90 *C
Humidity: 50.80 %    Temperature: 20.90 *C
Humidity: 50.80 %    Temperature: 20.90 *C
Humidity: 50.80 %    Temperature: 20.90 *C
Humidity: 50.80 %    Temperature: 20.90 *C
Humidity: 50.80 %    Temperature: 20.90 *C
Humidity: 50.80 %    Temperature: 20.90 *C
Humidity: 50.90 %    Temperature: 20.90 *C
Humidity: 50.90 %    Temperature: 20.90 *C
Humidity: 50.90 %    Temperature: 20.90 *C
Humidity: 50.90 %    Temperature: 20.90 *C
Humidity: 50.90 %    Temperature: 20.90 *C
Humidity: 50.90 %    Temperature: 20.90 *C
Humidity: 50.90 %    Temperature: 20.90 *C
Humidity: 50.90 %    Temperature: 20.90 *C
Humidity: 50.90 %    Temperature: 20.90 *C
Humidity: 50.90 %    Temperature: 20.90 *C
Humidity: 50.90 %    Temperature: 20.90 *C
Humidity: 50.90 %    Temperature: 20.90 *C
Humidity: 50.90 %    Temperature: 20.90 *C
Humidity: 50.90 %    Temperature: 20.90 *C
Humidity: 50.90 %    Temperature: 20.90 *C
Humidity: 50.90 %    Temperature: 20.90 *C
Humidity: 50.90 %    Temperature: 20.90 *C
Humidity: 50.90 %    Temperature: 20.90 *C
Humidity: 50.90 %    Temperature: 20.90 *C
Humidity: 50.90 %    Temperature: 20.90 *C
Humidity: 50.90 %    Temperature: 20.90 *C
Humidity: 50.90 %    Temperature: 20.90 *C
Humidity: 50.90 %    Temperature: 20.90 *C
Humidity: 50.90 %    Temperature: 20.90 *C
Humidity: 51.00 %    Temperature: 20.90 *C
Humidity: 51.00 %    Temperature: 20.90 *C
Humidity: 51.00 %    Temperature: 20.90 *C
Humidity: 51.00 %    Temperature: 20.90 *C
Humidity: 51.00 %    Temperature: 20.90 *C
Humidity: 51.00 %    Temperature: 20.90 *C
Humidity: 51.00 %    Temperature: 20.90 *C
Humidity: 51.00 %    Temperature: 20.90 *C
Humidity: 51.00 %    Temperature: 20.90 *C
Humidity: 51.00 %    Temperature: 20.90 *C
Humidity: 51.00 %    Temperature: 20.90 *C
Humidity: 51.00 %    Temperature: 20.90 *C
Humidity: 51.00 %    Temperature: 20.90 *C
Humidity: 51.00 %    Temperature: 20.90 *C
Humidity: 51.00 %    Temperature: 20.90 *C
Humidity: 51.00 %    Temperature: 20.90 *C
Humidity: 51.00 %    Temperature: 20.90 *C
Humidity: 51.00 %    Temperature: 20.90 *C
Humidity: 51.00 %    Temperature: 20.90 *C
Humidity: 51.00 %    Temperature: 20.90 *C
Humidity: 51.10 %    Temperature: 20.90 *C
Humidity: 51.10 %    Temperature: 20.90 *C
Humidity: 51.10 %    Temperature: 20.90 *C
Humidity: 51.10 %    Temperature: 20.90 *C
Humidity: 51.10 %    Temperature: 20.90 *C
Humidity: 51.10 %    Temperature: 20.90 *C
Humidity: 51.10 %    Temperature: 20.90 *C
Humidity: 51.10 %    Temperature: 20.90 *C
Humidity: 51.10 %    Temperature: 20.90 *C
Humidity: 51.10 %    Temperature: 20.90 *C
Humidity: 51.10 %    Temperature: 20.90 *C
Humidity: 51.10 %    Temperature: 20.90 *C
Humidity: 51.10 %    Temperature: 20.90 *C
Humidity: 51.10 %    Temperature: 20.90 *C
Humidity: 51.10 %    Temperature: 20.90 *C
Humidity: 51.10 %    Temperature: 20.90 *C
Humidity: 51.10 %    Temperature: 20.90 *C
Humidity: 51.10 %    Temperature: 20.90 *C
Humidity: 51.10 %    Temperature: 20.90 *C
Humidity: 51.10 %    Temperature: 20.90 *C
Humidity: 51.10 %    Temperature: 20.90 *C
Humidity: 51.10 %    Temperature: 20.90 *C
Humidity: 51.10 %    Temperature: 20.90 *C
Humidity: 51.10 %    Temperature: 20.90 *C
Humidity: 51.10 %    Temperature: 20.90 *C
Humidity: 51.10 %    Temperature: 20.90 *C
Humidity: 51.10 %    Temperature: 20.90 *C
Humidity: 51.10 %    Temperature: 20.90 *C
Humidity: 51.20 %    Temperature: 20.90 *C
Humidity: 51.20 %    Temperature: 20.90 *C
Humidity: 51.20 %    Temperature: 20.90 *C
Humidity: 51.20 %    Temperature: 20.90 *C
Humidity: 51.20 %    Temperature: 20.90 *C
Humidity: 51.20 %    Temperature: 20.90 *C
Humidity: 51.20 %    Temperature: 20.90 *C
Humidity: 51.20 %    Temperature: 20.90 *C
Humidity: 51.20 %    Temperature: 20.90 *C
Humidity: 51.20 %    Temperature: 20.90 *C
Humidity: 51.20 %    Temperature: 20.90 *C
Humidity: 51.20 %    Temperature: 20.90 *C
Humidity: 51.20 %    Temperature: 20.90 *C
Humidity: 51.20 %    Temperature: 20.90 *C
Humidity: 51.20 %    Temperature: 20.90 *C
Humidity: 51.20 %    Temperature: 20.90 *C
Humidity: 51.20 %    Temperature: 20.90 *C
Humidity: 51.20 %    Temperature: 20.90 *C
Humidity: 51.20 %    Temperature: 20.90 *C
Humidity: 51.20 %    Temperature: 20.90 *C
Humidity: 51.20 %    Temperature: 20.90 *C
Humidity: 51.20 %    Temperature: 20.90 *C
Humidity: 51.20 %    Temperature: 20.90 *C
Humidity: 51.20 %    Temperature: 20.90 *C
Humidity: 51.20 %    Temperature: 20.90 *C
Humidity: 51.20 %    Temperature: 20.90 *C
Humidity: 51.20 %    Temperature: 20.90 *C
Humidity: 51.20 %    Temperature: 20.90 *C
Humidity: 51.20 %    Temperature: 20.90 *C
Humidity: 51.20 %    Temperature: 20.90 *C
Humidity: 51.20 %    Temperature: 20.90 *C
Humidity: 51.20 %    Temperature: 20.90 *C
Humidity: 51.20 %    Temperature: 20.90 *C
Humidity: 51.20 %    Temperature: 20.90 *C
Humidity: 51.20 %    Temperature: 20.90 *C
Humidity: 51.20 %    Temperature: 20.90 *C
Humidity: 51.20 %    Temperature: 20.90 *C
Humidity: 51.20 %    Temperature: 20.90 *C
Humidity: 51.20 %    Temperature: 20.90 *C
Humidity: 51.20 %    Temperature: 20.90 *C
Humidity: 51.30 %    Temperature: 20.90 *C
Humidity: 51.30 %    Temperature: 20.90 *C
Humidity: 51.30 %    Temperature: 20.90 *C
Humidity: 51.30 %    Temperature: 20.90 *C
Humidity: 51.30 %    Temperature: 20.90 *C
Humidity: 51.30 %    Temperature: 20.90 *C
Humidity: 51.30 %    Temperature: 20.90 *C
Humidity: 51.30 %    Temperature: 20.90 *C
Humidity: 51.30 %    Temperature: 20.90 *C
Humidity: 51.30 %    Temperature: 20.90 *C
Humidity: 51.30 %    Temperature: 20.90 *C
Humidity: 51.30 %    Temperature: 20.90 *C
Humidity: 51.30 %    Temperature: 20.90 *C
Humidity: 51.30 %    Temperature: 20.90 *C
Humidity: 51.30 %    Temperature: 20.90 *C
Humidity: 51.30 %    Temperature: 20.90 *C
Humidity: 51.30 %    Temperature: 20.90 *C
Humidity: 51.30 %    Temperature: 20.90 *C
Humidity: 51.30 %    Temperature: 20.90 *C
Humidity: 51.30 %    Temperature: 20.90 *C
Humidity: 51.30 %    Temperature: 20.90 *C
Humidity: 51.30 %    Temperature: 20.90 *C
Humidity: 51.30 %    Temperature: 20.90 *C
Humidity: 51.30 %    Temperature: 20.90 *C
Humidity: 51.30 %    Temperature: 20.90 *C
Humidity: 51.30 %    Temperature: 20.90 *C
Humidity: 51.30 %    Temperature: 20.90 *C
Humidity: 51.30 %    Temperature: 20.90 *C
Humidity: 51.40 %    Temperature: 20.90 *C
Humidity: 51.40 %    Temperature: 20.90 *C
Humidity: 51.40 %    Temperature: 20.90 *C
Humidity: 51.40 %    Temperature: 20.90 *C
Humidity: 51.40 %    Temperature: 20.90 *C
Humidity: 51.40 %    Temperature: 20.90 *C
Humidity: 51.40 %    Temperature: 20.90 *C
Humidity: 51.40 %    Temperature: 20.90 *C
Humidity: 51.40 %    Temperature: 20.90 *C
Humidity: 51.40 %    Temperature: 20.90 *C
Humidity: 51.40 %    Temperature: 20.90 *C
Humidity: 51.40 %    Temperature: 20.90 *C
Humidity: 51.40 %    Temperature: 20.90 *C
Humidity: 51.40 %    Temperature: 20.90 *C
Humidity: 51.40 %    Temperature: 20.90 *C
Humidity: 51.40 %    Temperature: 20.90 *C
Humidity: 51.40 %    Temperature: 20.90 *C
Humidity: 51.40 %    Temperature: 20.90 *C
Humidity: 51.40 %    Temperature: 20.90 *C
Humidity: 51.40 %    Temperature: 20.90 *C
Humidity: 51.40 %    Temperature: 20.90 *C
Humidity: 51.40 %    Temperature: 20.90 *C
Humidity: 51.40 %    Temperature: 20.90 *C
Humidity: 51.40 %    Temperature: 20.90 *C
Humidity: 51.40 %    Temperature: 20.90 *C
Humidity: 51.40 %    Temperature: 20.90 *C
Humidity: 51.40 %    Temperature: 20.90 *C
Humidity: 51.40 %    Temperature: 20.90 *C
Humidity: 51.40 %    Temperature: 20.90 *C
Humidity: 51.40 %    Temperature: 20.90 *C
Humidity: 51.40 %    Temperature: 20.90 *C
Humidity: 51.40 %    Temperature: 20.90 *C
Humidity: 51.50 %    Temperature: 20.90 *C
Humidity: 51.50 %    Temperature: 20.90 *C
Humidity: 51.50 %    Temperature: 20.90 *C
Humidity: 51.50 %    Temperature: 20.90 *C
Humidity: 51.50 %    Temperature: 20.90 *C
Humidity: 51.50 %    Temperature: 20.90 *C
Humidity: 51.50 %    Temperature: 20.90 *C
Humidity: 51.50 %    Temperature: 20.90 *C
Humidity: 51.50 %    Temperature: 20.90 *C
Humidity: 51.50 %    Temperature: 20.90 *C
Humidity: 51.50 %    Temperature: 20.90 *C
Humidity: 51.50 %    Temperature: 20.90 *C
Humidity: 51.50 %    Temperature: 20.90 *C
Humidity: 51.50 %    Temperature: 20.90 *C
Humidity: 51.50 %    Temperature: 20.90 *C
Humidity: 51.50 %    Temperature: 20.90 *C
Humidity: 51.50 %    Temperature: 20.90 *C
Humidity: 51.50 %    Temperature: 20.90 *C
Humidity: 51.50 %    Temperature: 20.90 *C
Humidity: 51.50 %    Temperature: 20.90 *C
Humidity: 51.50 %    Temperature: 20.90 *C
Humidity: 51.50 %    Temperature: 20.90 *C
Humidity: 51.50 %    Temperature: 20.90 *C
Humidity: 51.50 %    Temperature: 20.90 *C
Humidity: 51.50 %    Temperature: 20.90 *C
Humidity: 51.50 %    Temperature: 20.90 *C
Humidity: 51.50 %    Temperature: 20.90 *C
Humidity: 51.50 %    Temperature: 20.90 *C
Humidity: 51.60 %    Temperature: 20.90 *C
Humidity: 51.60 %    Temperature: 20.90 *C
Humidity: 51.60 %    Temperature: 20.90 *C
Humidity: 51.60 %    Temperature: 20.90 *C
Humidity: 51.60 %    Temperature: 20.90 *C
Humidity: 51.60 %    Temperature: 20.90 *C
Humidity: 51.60 %    Temperature: 20.90 *C
Humidity: 51.60 %    Temperature: 20.90 *C
Humidity: 51.60 %    Temperature: 20.90 *C
Humidity: 51.60 %    Temperature: 20.90 *C
Humidity: 51.60 %    Temperature: 20.90 *C
Humidity: 51.60 %    Temperature: 20.90 *C
Humidity: 51.60 %    Temperature: 20.90 *C
Humidity: 51.60 %    Temperature: 20.90 *C
Humidity: 51.60 %    Temperature: 20.90 *C
Humidity: 51.60 %    Temperature: 20.90 *C
Humidity: 51.60 %    Temperature: 20.90 *C
Humidity: 51.60 %    Temperature: 20.90 *C
Humidity: 51.60 %    Temperature: 20.90 *C
Humidity: 51.60 %    Temperature: 20.90 *C
Humidity: 51.60 %    Temperature: 20.90 *C
Humidity: 51.60 %    Temperature: 20.90 *C
Humidity: 51.60 %    Temperature: 20.90 *C
Humidity: 51.60 %    Temperature: 20.90 *C
Humidity: 51.70 %    Temperature: 20.90 *C
Humidity: 51.70 %    Temperature: 20.90 *C
Humidity: 51.70 %    Temperature: 20.90 *C
Humidity: 51.70 %    Temperature: 20.90 *C
Humidity: 51.70 %    Temperature: 20.90 *C
Humidity: 51.70 %    Temperature: 20.90 *C
Humidity: 51.70 %    Temperature: 20.90 *C
Humidity: 51.70 %    Temperature: 20.90 *C
Humidity: 51.70 %    Temperature: 20.90 *C
Humidity: 51.70 %    Temperature: 20.90 *C
Humidity: 51.70 %    Temperature: 20.90 *C
Humidity: 51.70 %    Temperature: 20.90 *C
Humidity: 51.70 %    Temperature: 20.90 *C
Humidity: 51.70 %    Temperature: 20.90 *C
Humidity: 51.70 %    Temperature: 20.90 *C
Humidity: 51.70 %    Temperature: 20.90 *C
Humidity: 51.70 %    Temperature: 20.90 *C
Humidity: 51.70 %    Temperature: 20.90 *C
Humidity: 51.70 %    Temperature: 20.90 *C
Humidity: 51.70 %    Temperature: 20.90 *C
Humidity: 51.70 %    Temperature: 20.90 *C
Humidity: 51.70 %    Temperature: 20.90 *C
Humidity: 51.70 %    Temperature: 20.90 *C
Humidity: 51.70 %    Temperature: 20.90 *C
Humidity: 51.70 %    Temperature: 20.90 *C
Humidity: 51.70 %    Temperature: 20.90 *C
Humidity: 51.70 %    Temperature: 20.90 *C
Humidity: 51.70 %    Temperature: 20.90 *C
Humidity: 51.70 %    Temperature: 20.90 *C
Humidity: 51.70 %    Temperature: 20.90 *C
Humidity: 51.70 %    Temperature: 20.90 *C
Humidity: 51.70 %    Temperature: 20.90 *C
Humidity: 51.70 %    Temperature: 20.90 *C
Humidity: 51.70 %    Temperature: 20.90 *C
Humidity: 51.70 %    Temperature: 20.90 *C
Humidity: 51.70 %    Temperature: 20.90 *C
Humidity: 51.70 %    Temperature: 20.90 *C
Humidity: 51.70 %    Temperature: 20.90 *C
Humidity: 51.70 %    Temperature: 20.90 *C
Humidity: 51.70 %    Temperature: 20.90 *C
Humidity: 51.70 %    Temperature: 20.90 *C
Humidity: 51.70 %    Temperature: 20.90 *C
Humidity: 51.70 %    Temperature: 20.90 *C
Humidity: 51.70 %    Temperature: 20.90 *C
Humidity: 51.70 %    Temperature: 20.90 *C
Humidity: 51.70 %    Temperature: 20.90 *C
Humidity: 51.70 %    Temperature: 20.90 *C
Humidity: 51.70 %    Temperature: 20.90 *C
Humidity: 51.80 %    Temperature: 21.00 *C
Humidity: 51.80 %    Temperature: 21.00 *C
Humidity: 51.80 %    Temperature: 21.00 *C
Humidity: 51.80 %    Temperature: 21.00 *C
Humidity: 51.80 %    Temperature: 20.90 *C
Humidity: 51.80 %    Temperature: 20.90 *C
Humidity: 51.80 %    Temperature: 20.90 *C
Humidity: 51.80 %    Temperature: 20.90 *C
Humidity: 51.80 %    Temperature: 20.90 *C
Humidity: 51.80 %    Temperature: 20.90 *C
Humidity: 51.80 %    Temperature: 20.90 *C
Humidity: 51.80 %    Temperature: 20.90 *C
Humidity: 51.80 %    Temperature: 20.90 *C
Humidity: 51.80 %    Temperature: 20.90 *C
Humidity: 51.80 %    Temperature: 20.90 *C
Humidity: 51.80 %    Temperature: 20.90 *C
Humidity: 51.80 %    Temperature: 21.00 *C
Humidity: 51.80 %    Temperature: 21.00 *C
Humidity: 51.80 %    Temperature: 21.00 *C
Humidity: 51.80 %    Temperature: 21.00 *C
Humidity: 51.90 %    Temperature: 20.90 *C
Humidity: 51.90 %    Temperature: 20.90 *C
Humidity: 51.90 %    Temperature: 20.90 *C
Humidity: 51.90 %    Temperature: 20.90 *C
Humidity: 51.90 %    Temperature: 20.90 *C
Humidity: 51.90 %    Temperature: 20.90 *C
Humidity: 51.90 %    Temperature: 20.90 *C
Humidity: 51.90 %    Temperature: 20.90 *C
Humidity: 51.90 %    Temperature: 20.90 *C
Humidity: 51.90 %    Temperature: 20.90 *C
Humidity: 51.90 %    Temperature: 20.90 *C
Humidity: 51.90 %    Temperature: 20.90 *C
Humidity: 51.90 %    Temperature: 20.90 *C
Humidity: 51.90 %    Temperature: 20.90 *C
Humidity: 51.90 %    Temperature: 20.90 *C
Humidity: 51.90 %    Temperature: 20.90 *C
Humidity: 51.90 %    Temperature: 20.90 *C
Humidity: 51.90 %    Temperature: 20.90 *C
Humidity: 51.90 %    Temperature: 20.90 *C
Humidity: 51.90 %    Temperature: 20.90 *C
Humidity: 51.90 %    Temperature: 20.90 *C
Humidity: 51.90 %    Temperature: 20.90 *C
Humidity: 51.90 %    Temperature: 20.90 *C
Humidity: 51.90 %    Temperature: 20.90 *C
Humidity: 51.90 %    Temperature: 20.90 *C
Humidity: 51.90 %    Temperature: 20.90 *C
Humidity: 51.90 %    Temperature: 20.90 *C
Humidity: 51.90 %    Temperature: 20.90 *C
Humidity: 51.90 %    Temperature: 20.90 *C
Humidity: 51.90 %    Temperature: 20.90 *C
Humidity: 51.90 %    Temperature: 20.90 *C
Humidity: 51.90 %    Temperature: 20.90 *C
Humidity: 51.90 %    Temperature: 20.90 *C
Humidity: 51.90 %    Temperature: 20.90 *C
Humidity: 51.90 %    Temperature: 20.90 *C
Humidity: 51.90 %    Temperature: 20.90 *C
Humidity: 51.90 %    Temperature: 20.90 *C
Humidity: 51.90 %    Temperature: 20.90 *C
Humidity: 51.90 %    Temperature: 20.90 *C
Humidity: 51.90 %    Temperature: 20.90 *C
Humidity: 51.90 %    Temperature: 20.90 *C
Humidity: 51.90 %    Temperature: 20.90 *C
Humidity: 51.90 %    Temperature: 20.90 *C
Humidity: 51.90 %    Temperature: 20.90 *C
Humidity: 51.90 %    Temperature: 20.90 *C
Humidity: 51.90 %    Temperature: 20.90 *C
Humidity: 51.90 %    Temperature: 20.90 *C
Humidity: 51.90 %    Temperature: 20.90 *C
Humidity: 51.90 %    Temperature: 20.90 *C
Humidity: 51.90 %    Temperature: 20.90 *C
Humidity: 51.90 %    Temperature: 20.90 *C
Humidity: 51.90 %    Temperature: 20.90 *C
Humidity: 52.00 %    Temperature: 20.90 *C
Humidity: 52.00 %    Temperature: 20.90 *C
Humidity: 52.00 %    Temperature: 20.90 *C
Humidity: 52.00 %    Temperature: 20.90 *C
Humidity: 52.00 %    Temperature: 20.90 *C
Humidity: 52.00 %    Temperature: 20.90 *C
Humidity: 52.00 %    Temperature: 20.90 *C
Humidity: 52.00 %    Temperature: 20.90 *C
Humidity: 52.00 %    Temperature: 20.90 *C
Humidity: 52.00 %    Temperature: 20.90 *C
Humidity: 52.00 %    Temperature: 20.90 *C
Humidity: 52.00 %    Temperature: 20.90 *C
Humidity: 52.00 %    Temperature: 20.90 *C
Humidity: 52.00 %    Temperature: 20.90 *C
Humidity: 52.00 %    Temperature: 20.90 *C
Humidity: 52.00 %    Temperature: 20.90 *C
Humidity: 52.00 %    Temperature: 20.90 *C
Humidity: 52.00 %    Temperature: 20.90 *C
Humidity: 52.00 %    Temperature: 20.90 *C
Humidity: 52.00 %    Temperature: 20.90 *C
Humidity: 52.00 %    Temperature: 20.90 *C
Humidity: 52.00 %    Temperature: 20.90 *C
Humidity: 52.00 %    Temperature: 20.90 *C
Humidity: 52.00 %    Temperature: 20.90 *C
Humidity: 52.00 %    Temperature: 20.90 *C
Humidity: 52.00 %    Temperature: 20.90 *C
Humidity: 52.00 %    Temperature: 20.90 *C
Humidity: 52.00 %    Temperature: 20.90 *C
Humidity: 52.00 %    Temperature: 20.90 *C
Humidity: 52.00 %    Temperature: 20.90 *C
Humidity: 52.00 %    Temperature: 20.90 *C
Humidity: 52.00 %    Temperature: 20.90 *C
Humidity: 52.10 %    Temperature: 20.90 *C
Humidity: 52.10 %    Temperature: 20.90 *C
Humidity: 52.10 %    Temperature: 20.90 *C
Humidity: 52.10 %    Temperature: 20.90 *C
Humidity: 52.10 %    Temperature: 20.90 *C
Humidity: 52.10 %    Temperature: 20.90 *C
Humidity: 52.10 %    Temperature: 20.90 *C
Humidity: 52.10 %    Temperature: 20.90 *C
Humidity: 52.10 %    Temperature: 20.90 *C
Humidity: 52.10 %    Temperature: 20.90 *C
Humidity: 52.10 %    Temperature: 20.90 *C
Humidity: 52.10 %    Temperature: 20.90 *C
Humidity: 52.10 %    Temperature: 20.90 *C
Humidity: 52.10 %    Temperature: 20.90 *C
Humidity: 52.10 %    Temperature: 20.90 *C
Humidity: 52.10 %    Temperature: 20.90 *C
Humidity: 52.10 %    Temperature: 20.90 *C
Humidity: 52.10 %    Temperature: 20.90 *C
Humidity: 52.10 %    Temperature: 20.90 *C
Humidity: 52.10 %    Temperature: 20.90 *C
Humidity: 52.10 %    Temperature: 20.90 *C
Humidity: 52.10 %    Temperature: 20.90 *C
Humidity: 52.10 %    Temperature: 20.90 *C
Humidity: 52.10 %    Temperature: 20.90 *C
Humidity: 52.10 %    Temperature: 20.90 *C
Humidity: 52.10 %    Temperature: 20.90 *C
Humidity: 52.10 %    Temperature: 20.90 *C
Humidity: 52.10 %    Temperature: 20.90 *C
Humidity: 52.10 %    Temperature: 21.00 *C
Humidity: 52.10 %    Temperature: 21.00 *C
Humidity: 52.10 %    Temperature: 21.00 *C
Humidity: 52.10 %    Temperature: 21.00 *C
Humidity: 52.10 %    Temperature: 20.90 *C
Humidity: 52.10 %    Temperature: 20.90 *C
Humidity: 52.10 %    Temperature: 20.90 *C
Humidity: 52.10 %    Temperature: 20.90 *C
Humidity: 52.20 %    Temperature: 20.90 *C
Humidity: 52.20 %    Temperature: 20.90 *C
Humidity: 52.20 %    Temperature: 20.90 *C
Humidity: 52.20 %    Temperature: 20.90 *C
Humidity: 52.20 %    Temperature: 20.90 *C
Humidity: 52.20 %    Temperature: 20.90 *C
Humidity: 52.20 %    Temperature: 20.90 *C
Humidity: 52.20 %    Temperature: 20.90 *C
Humidity: 52.20 %    Temperature: 20.90 *C
Humidity: 52.20 %    Temperature: 20.90 *C
Humidity: 52.20 %    Temperature: 20.90 *C
Humidity: 52.20 %    Temperature: 20.90 *C
Humidity: 52.30 %    Temperature: 20.90 *C
Humidity: 52.30 %    Temperature: 20.90 *C
Humidity: 52.30 %    Temperature: 20.90 *C
Humidity: 52.30 %    Temperature: 20.90 *C
Humidity: 52.40 %    Temperature: 21.00 *C
Humidity: 52.40 %    Temperature: 21.00 *C
Humidity: 52.40 %    Temperature: 21.00 *C
Humidity: 52.40 %    Temperature: 21.00 *C
Humidity: 52.60 %    Temperature: 21.00 *C
Humidity: 52.60 %    Temperature: 21.00 *C
Humidity: 52.60 %    Temperature: 21.00 *C
Humidity: 52.60 %    Temperature: 21.00 *C
Humidity: 52.80 %    Temperature: 21.00 *C
Humidity: 52.80 %    Temperature: 21.00 *C
Humidity: 52.80 %    Temperature: 21.00 *C
Humidity: 52.80 %    Temperature: 21.00 *C
Humidity: 53.10 %    Temperature: 21.00 *C
Humidity: 53.10 %    Temperature: 21.00 *C
Humidity: 53.10 %    Temperature: 21.00 *C
Humidity: 53.10 %    Temperature: 21.00 *C
Humidity: 53.40 %    Temperature: 21.00 *C
Humidity: 53.40 %    Temperature: 21.00 *C
Humidity: 53.40 %    Temperature: 21.00 *C
Humidity: 53.40 %    Temperature: 21.00 *C
Humidity: 53.80 %    Temperature: 21.00 *C
Humidity: 53.80 %    Temperature: 21.00 *C
Humidity: 53.80 %    Temperature: 21.00 *C
Humidity: 53.80 %    Temperature: 21.00 *C
Humidity: 54.20 %    Temperature: 21.00 *C
Humidity: 54.20 %    Temperature: 21.00 *C
Humidity: 54.20 %    Temperature: 21.00 *C
Humidity: 54.20 %    Temperature: 21.00 *C
Humidity: 54.70 %    Temperature: 21.00 *C
Humidity: 54.70 %    Temperature: 21.00 *C
Humidity: 54.70 %    Temperature: 21.00 *C
Humidity: 54.70 %    Temperature: 21.00 *C
Humidity: 55.20 %    Temperature: 21.00 *C
Humidity: 55.20 %    Temperature: 21.00 *C
Humidity: 55.20 %    Temperature: 21.00 *C
Humidity: 55.20 %    Temperature: 21.00 *C
Humidity: 55.70 %    Temperature: 21.00 *C
Humidity: 55.70 %    Temperature: 21.00 *C
Humidity: 55.70 %    Temperature: 21.00 *C
Humidity: 55.70 %    Temperature: 21.00 *C
Humidity: 56.20 %    Temperature: 21.00 *C
Humidity: 56.20 %    Temperature: 21.00 *C
Humidity: 56.20 %    Temperature: 21.00 *C
Humidity: 56.20 %    Temperature: 21.00 *C
Humidity: 56.70 %    Temperature: 21.00 *C
Humidity: 56.70 %    Temperature: 21.00 *C
Humidity: 56.70 %    Temperature: 21.00 *C
Humidity: 56.70 %    Temperature: 21.00 *C
Humidity: 57.30 %    Temperature: 21.00 *C
Humidity: 57.30 %    Temperature: 21.00 *C
Humidity: 57.30 %    Temperature: 21.00 *C
Humidity: 57.30 %    Temperature: 21.00 *C
Humidity: 57.80 %    Temperature: 21.00 *C
Humidity: 57.80 %    Temperature: 21.00 *C
Humidity: 57.80 %    Temperature: 21.00 *C
Humidity: 57.80 %    Temperature: 21.00 *C
Humidity: 58.30 %    Temperature: 21.00 *C
Humidity: 58.30 %    Temperature: 21.00 *C
Humidity: 58.30 %    Temperature: 21.00 *C
Humidity: 58.30 %    Temperature: 21.00 *C
Humidity: 58.70 %    Temperature: 21.00 *C
Humidity: 58.70 %    Temperature: 21.00 *C
Humidity: 58.70 %    Temperature: 21.00 *C
Humidity: 58.70 %    Temperature: 21.00 *C
Humidity: 59.10 %    Temperature: 21.00 *C
Humidity: 59.10 %    Temperature: 21.00 *C
Humidity: 59.10 %    Temperature: 21.00 *C
Humidity: 59.10 %    Temperature: 21.00 *C
Humidity: 59.50 %    Temperature: 21.00 *C
Humidity: 59.50 %    Temperature: 21.00 *C
Humidity: 59.50 %    Temperature: 21.00 *C
Humidity: 59.50 %    Temperature: 21.00 *C
Humidity: 59.90 %    Temperature: 21.10 *C
Humidity: 59.90 %    Temperature: 21.10 *C
Humidity: 59.90 %    Temperature: 21.10 *C
Humidity: 59.90 %    Temperature: 21.10 *C
Humidity: 60.20 %    Temperature: 21.10 *C
Humidity: 60.20 %    Temperature: 21.10 *C
Humidity: 60.20 %    Temperature: 21.10 *C
Humidity: 60.20 %    Temperature: 21.10 *C
Humidity: 60.40 %    Temperature: 21.10 *C
Humidity: 60.40 %    Temperature: 21.10 *C
Humidity: 60.40 %    Temperature: 21.10 *C
Humidity: 60.40 %    Temperature: 21.10 *C
Humidity: 60.70 %    Temperature: 21.10 *C
Humidity: 60.70 %    Temperature: 21.10 *C
Humidity: 60.70 %    Temperature: 21.10 *C
Humidity: 60.70 %    Temperature: 21.10 *C
Humidity: 60.90 %    Temperature: 21.10 *C
Humidity: 60.90 %    Temperature: 21.10 *C
Humidity: 60.90 %    Temperature: 21.10 *C
Humidity: 60.90 %    Temperature: 21.10 *C
Humidity: 61.20 %    Temperature: 21.10 *C
Humidity: 61.20 %    Temperature: 21.10 *C
Humidity: 61.20 %    Temperature: 21.10 *C
Humidity: 61.20 %    Temperature: 21.10 *C
Humidity: 61.60 %    Temperature: 21.10 *C
Humidity: 61.60 %    Temperature: 21.10 *C
Humidity: 61.60 %    Temperature: 21.10 *C
Humidity: 61.60 %    Temperature: 21.10 *C
Humidity: 62.00 %    Temperature: 21.10 *C
Humidity: 62.00 %    Temperature: 21.10 *C
Humidity: 62.00 %    Temperature: 21.10 *C
Humidity: 62.00 %    Temperature: 21.10 *C
Humidity: 62.40 %    Temperature: 21.10 *C
Humidity: 62.40 %    Temperature: 21.10 *C
Humidity: 62.40 %    Temperature: 21.10 *C
Humidity: 62.40 %    Temperature: 21.10 *C
Humidity: 62.70 %    Temperature: 21.10 *C
Humidity: 62.70 %    Temperature: 21.10 *C
Humidity: 62.70 %    Temperature: 21.10 *C
Humidity: 62.70 %    Temperature: 21.10 *C
Humidity: 63.10 %    Temperature: 21.10 *C
Humidity: 63.10 %    Temperature: 21.10 *C
Humidity: 63.10 %    Temperature: 21.10 *C
Humidity: 63.10 %    Temperature: 21.10 *C
Humidity: 63.50 %    Temperature: 21.20 *C
Humidity: 63.50 %    Temperature: 21.20 *C
Humidity: 63.50 %    Temperature: 21.20 *C
Humidity: 63.50 %    Temperature: 21.20 *C
Humidity: 63.90 %    Temperature: 21.20 *C
Humidity: 63.90 %    Temperature: 21.20 *C
Humidity: 63.90 %    Temperature: 21.20 *C
Humidity: 63.90 %    Temperature: 21.20 *C
Humidity: 64.30 %    Temperature: 21.20 *C
Humidity: 64.30 %    Temperature: 21.20 *C
Humidity: 64.30 %    Temperature: 21.20 *C
Humidity: 64.30 %    Temperature: 21.20 *C
Humidity: 64.70 %    Temperature: 21.20 *C
Humidity: 64.70 %    Temperature: 21.20 *C
Humidity: 64.70 %    Temperature: 21.20 *C
Humidity: 64.70 %    Temperature: 21.20 *C
Humidity: 65.10 %    Temperature: 21.20 *C
Humidity: 65.10 %    Temperature: 21.20 *C
Humidity: 65.10 %    Temperature: 21.20 *C
Humidity: 65.10 %    Temperature: 21.20 *C
Humidity: 65.60 %    Temperature: 21.20 *C
Humidity: 65.60 %    Temperature: 21.20 *C
Humidity: 65.60 %    Temperature: 21.20 *C
Humidity: 65.60 %    Temperature: 21.20 *C
Humidity: 66.10 %    Temperature: 21.20 *C
Humidity: 66.10 %    Temperature: 21.20 *C
Humidity: 66.10 %    Temperature: 21.20 *C
Humidity: 66.10 %    Temperature: 21.20 *C
Humidity: 66.50 %    Temperature: 21.20 *C
Humidity: 66.50 %    Temperature: 21.20 *C
Humidity: 66.50 %    Temperature: 21.20 *C
Humidity: 66.50 %    Temperature: 21.20 *C
Humidity: 67.00 %    Temperature: 21.20 *C
Humidity: 67.00 %    Temperature: 21.20 *C
Humidity: 67.00 %    Temperature: 21.20 *C
Humidity: 67.00 %    Temperature: 21.20 *C
Humidity: 67.50 %    Temperature: 21.20 *C
Humidity: 67.50 %    Temperature: 21.20 *C
Humidity: 67.50 %    Temperature: 21.20 *C
Humidity: 67.50 %    Temperature: 21.20 *C
Humidity: 68.10 %    Temperature: 21.30 *C
Humidity: 68.10 %    Temperature: 21.30 *C
Humidity: 68.10 %    Temperature: 21.30 *C
Humidity: 68.10 %    Temperature: 21.30 *C
Humidity: 68.60 %    Temperature: 21.30 *C
Humidity: 68.60 %    Temperature: 21.30 *C
Humidity: 68.60 %    Temperature: 21.30 *C
Humidity: 68.60 %    Temperature: 21.30 *C
Humidity: 69.00 %    Temperature: 21.20 *C
Humidity: 69.00 %    Temperature: 21.20 *C
Humidity: 69.00 %    Temperature: 21.20 *C
Humidity: 69.00 %    Temperature: 21.20 *C
Humidity: 69.70 %    Temperature: 21.30 *C
Humidity: 69.70 %    Temperature: 21.30 *C
Humidity: 69.70 %    Temperature: 21.30 *C
Humidity: 69.70 %    Temperature: 21.30 *C
Humidity: 70.40 %    Temperature: 21.30 *C
Humidity: 70.40 %    Temperature: 21.30 *C
Humidity: 70.40 %    Temperature: 21.30 *C
Humidity: 70.40 %    Temperature: 21.30 *C
Humidity: 71.00 %    Temperature: 21.30 *C
Humidity: 71.00 %    Temperature: 21.30 *C
Humidity: 71.00 %    Temperature: 21.30 *C
Humidity: 71.00 %    Temperature: 21.30 *C
Humidity: 71.60 %    Temperature: 21.30 *C
Humidity: 71.60 %    Temperature: 21.30 *C
Humidity: 71.60 %    Temperature: 21.30 *C
Humidity: 71.60 %    Temperature: 21.30 *C
Humidity: 72.20 %    Temperature: 21.30 *C
Humidity: 72.20 %    Temperature: 21.30 *C
Humidity: 72.20 %    Temperature: 21.30 *C
Humidity: 72.20 %    Temperature: 21.30 *C
Humidity: 72.80 %    Temperature: 21.30 *C
Humidity: 72.80 %    Temperature: 21.30 *C
Humidity: 72.80 %    Temperature: 21.30 *C
Humidity: 72.80 %    Temperature: 21.30 *C
Humidity: 73.50 %    Temperature: 21.30 *C
Humidity: 73.50 %    Temperature: 21.30 *C
Humidity: 73.50 %    Temperature: 21.30 *C
Humidity: 73.50 %    Temperature: 21.30 *C
Humidity: 74.20 %    Temperature: 21.40 *C
Humidity: 74.20 %    Temperature: 21.40 *C
Humidity: 74.20 %    Temperature: 21.40 *C
Humidity: 74.20 %    Temperature: 21.40 *C
Humidity: 74.80 %    Temperature: 21.40 *C
Humidity: 74.80 %    Temperature: 21.40 *C
Humidity: 74.80 %    Temperature: 21.40 *C
Humidity: 74.80 %    Temperature: 21.40 *C
Humidity: 75.40 %    Temperature: 21.40 *C
Humidity: 75.40 %    Temperature: 21.40 *C
Humidity: 75.40 %    Temperature: 21.40 *C
Humidity: 75.40 %    Temperature: 21.40 *C
Humidity: 76.10 %    Temperature: 21.40 *C
Humidity: 76.10 %    Temperature: 21.40 *C
Humidity: 76.10 %    Temperature: 21.40 *C
Humidity: 76.10 %    Temperature: 21.40 *C
Humidity: 76.70 %    Temperature: 21.40 *C
Humidity: 76.70 %    Temperature: 21.40 *C
Humidity: 76.70 %    Temperature: 21.40 *C
Humidity: 76.70 %    Temperature: 21.40 *C
Humidity: 77.40 %    Temperature: 21.40 *C
Humidity: 77.40 %    Temperature: 21.40 *C
Humidity: 77.40 %    Temperature: 21.40 *C
Humidity: 77.40 %    Temperature: 21.40 *C
Humidity: 78.00 %    Temperature: 21.40 *C
Humidity: 78.00 %    Temperature: 21.40 *C
Humidity: 78.00 %    Temperature: 21.40 *C
Humidity: 78.00 %    Temperature: 21.40 *C
Humidity: 78.70 %    Temperature: 21.50 *C
Humidity: 78.70 %    Temperature: 21.50 *C
Humidity: 78.70 %    Temperature: 21.50 *C
Humidity: 78.70 %    Temperature: 21.50 *C
Humidity: 79.30 %    Temperature: 21.50 *C
Humidity: 79.30 %    Temperature: 21.50 *C
Humidity: 79.30 %    Temperature: 21.50 *C
Humidity: 79.30 %    Temperature: 21.50 *C
Humidity: 79.90 %    Temperature: 21.50 *C
Humidity: 79.90 %    Temperature: 21.50 *C
Humidity: 79.90 %    Temperature: 21.50 *C
Humidity: 79.90 %    Temperature: 21.50 *C
Humidity: 80.40 %    Temperature: 21.50 *C
Humidity: 80.40 %    Temperature: 21.50 *C
Humidity: 80.40 %    Temperature: 21.50 *C
Humidity: 80.40 %    Temperature: 21.50 *C
Humidity: 81.00 %    Temperature: 21.50 *C
Humidity: 81.00 %    Temperature: 21.50 *C
Humidity: 81.00 %    Temperature: 21.50 *C
Humidity: 81.00 %    Temperature: 21.50 *C
Humidity: 81.50 %    Temperature: 21.50 *C
Humidity: 81.50 %    Temperature: 21.50 *C
Humidity: 81.50 %    Temperature: 21.50 *C
Humidity: 81.50 %    Temperature: 21.50 *C
Humidity: 82.00 %    Temperature: 21.60 *C
Humidity: 82.00 %    Temperature: 21.60 *C
Humidity: 82.00 %    Temperature: 21.60 *C
Humidity: 82.00 %    Temperature: 21.60 *C
Humidity: 82.50 %    Temperature: 21.50 *C
Humidity: 82.50 %    Temperature: 21.50 *C
Humidity: 82.50 %    Temperature: 21.50 *C
Humidity: 82.50 %    Temperature: 21.50 *C
Humidity: 83.00 %    Temperature: 21.60 *C
Humidity: 83.00 %    Temperature: 21.60 *C
Humidity: 83.00 %    Temperature: 21.60 *C
Humidity: 83.00 %    Temperature: 21.60 *C
Humidity: 83.40 %    Temperature: 21.60 *C
Humidity: 83.40 %    Temperature: 21.60 *C
Humidity: 83.40 %    Temperature: 21.60 *C
Humidity: 83.40 %    Temperature: 21.60 *C
Humidity: 83.80 %    Temperature: 21.60 *C
Humidity: 83.80 %    Temperature: 21.60 *C
Humidity: 83.80 %    Temperature: 21.60 *C
Humidity: 83.80 %    Temperature: 21.60 *C
Humidity: 84.10 %    Temperature: 21.60 *C
Humidity: 84.10 %    Temperature: 21.60 *C
Humidity: 84.10 %    Temperature: 21.60 *C
Humidity: 84.10 %    Temperature: 21.60 *C
Humidity: 84.50 %    Temperature: 21.60 *C
Humidity: 84.50 %    Temperature: 21.60 *C
Humidity: 84.50 %    Temperature: 21.60 *C
Humidity: 84.50 %    Temperature: 21.60 *C
Humidity: 84.80 %    Temperature: 21.60 *C
Humidity: 84.80 %    Temperature: 21.60 *C
Humidity: 84.80 %    Temperature: 21.60 *C
Humidity: 84.80 %    Temperature: 21.60 *C
Humidity: 85.10 %    Temperature: 21.60 *C
Humidity: 85.10 %    Temperature: 21.60 *C
Humidity: 85.10 %    Temperature: 21.60 *C
Humidity: 85.10 %    Temperature: 21.60 *C
Humidity: 85.40 %    Temperature: 21.60 *C
Humidity: 85.40 %    Temperature: 21.60 *C
Humidity: 85.40 %    Temperature: 21.60 *C
Humidity: 85.40 %    Temperature: 21.60 *C
Humidity: 85.70 %    Temperature: 21.70 *C
Humidity: 85.70 %    Temperature: 21.70 *C
Humidity: 85.70 %    Temperature: 21.70 *C
Humidity: 85.70 %    Temperature: 21.70 *C
Humidity: 86.00 %    Temperature: 21.70 *C
Humidity: 86.00 %    Temperature: 21.70 *C
Humidity: 86.00 %    Temperature: 21.70 *C
Humidity: 86.00 %    Temperature: 21.70 *C
Humidity: 86.20 %    Temperature: 21.70 *C
Humidity: 86.20 %    Temperature: 21.70 *C
Humidity: 86.20 %    Temperature: 21.70 *C
Humidity: 86.20 %    Temperature: 21.70 *C
Humidity: 86.40 %    Temperature: 21.70 *C
Humidity: 86.40 %    Temperature: 21.70 *C
Humidity: 86.40 %    Temperature: 21.70 *C
Humidity: 86.40 %    Temperature: 21.70 *C
Humidity: 86.50 %    Temperature: 21.70 *C
Humidity: 86.50 %    Temperature: 21.70 *C
Humidity: 86.50 %    Temperature: 21.70 *C
Humidity: 86.50 %    Temperature: 21.70 *C
Humidity: 86.70 %    Temperature: 21.80 *C
Humidity: 86.70 %    Temperature: 21.80 *C
Humidity: 86.70 %    Temperature: 21.80 *C
Humidity: 86.70 %    Temperature: 21.80 *C
Humidity: 86.90 %    Temperature: 21.80 *C
Humidity: 86.90 %    Temperature: 21.80 *C
Humidity: 86.90 %    Temperature: 21.80 *C
Humidity: 86.90 %    Temperature: 21.80 *C
Humidity: 87.00 %    Temperature: 21.80 *C
Humidity: 87.00 %    Temperature: 21.80 *C
Humidity: 87.00 %    Temperature: 21.80 *C
Humidity: 87.00 %    Temperature: 21.80 *C
Humidity: 87.10 %    Temperature: 21.80 *C
Humidity: 87.10 %    Temperature: 21.80 *C
Humidity: 87.10 %    Temperature: 21.80 *C
Humidity: 87.10 %    Temperature: 21.80 *C
Humidity: 87.20 %    Temperature: 21.80 *C
Humidity: 87.20 %    Temperature: 21.80 *C
Humidity: 87.20 %    Temperature: 21.80 *C
Humidity: 87.20 %    Temperature: 21.80 *C
Humidity: 87.40 %    Temperature: 21.80 *C
Humidity: 87.40 %    Temperature: 21.80 *C
Humidity: 87.40 %    Temperature: 21.80 *C
Humidity: 87.40 %    Temperature: 21.80 *C
Humidity: 87.50 %    Temperature: 21.80 *C
Humidity: 87.50 %    Temperature: 21.80 *C
Humidity: 87.50 %    Temperature: 21.80 *C
Humidity: 87.50 %    Temperature: 21.80 *C
Humidity: 87.60 %    Temperature: 21.80 *C
Humidity: 87.60 %    Temperature: 21.80 *C
Humidity: 87.60 %    Temperature: 21.80 *C
Humidity: 87.60 %    Temperature: 21.80 *C
Humidity: 87.80 %    Temperature: 21.90 *C
Humidity: 87.80 %    Temperature: 21.90 *C
Humidity: 87.80 %    Temperature: 21.90 *C
Humidity: 87.80 %    Temperature: 21.90 *C
Humidity: 88.00 %    Temperature: 21.90 *C
Humidity: 88.00 %    Temperature: 21.90 *C
Humidity: 88.00 %    Temperature: 21.90 *C
Humidity: 88.00 %    Temperature: 21.90 *C
Humidity: 88.00 %    Temperature: 21.90 *C
Humidity: 88.00 %    Temperature: 21.90 *C
Humidity: 88.00 %    Temperature: 21.90 *C
Humidity: 88.00 %    Temperature: 21.90 *C
Humidity: 88.20 %    Temperature: 21.90 *C
Humidity: 88.20 %    Temperature: 21.90 *C
Humidity: 88.20 %    Temperature: 21.90 *C
Humidity: 88.20 %    Temperature: 21.90 *C
Humidity: 88.20 %    Temperature: 21.90 *C
Humidity: 88.20 %    Temperature: 21.90 *C
Humidity: 88.20 %    Temperature: 21.90 *C
Humidity: 88.20 %    Temperature: 21.90 *C
Humidity: 88.30 %    Temperature: 21.90 *C
Humidity: 88.30 %    Temperature: 21.90 *C
Humidity: 88.30 %    Temperature: 21.90 *C
Humidity: 88.30 %    Temperature: 21.90 *C
Humidity: 88.40 %    Temperature: 22.00 *C
Humidity: 88.40 %    Temperature: 22.00 *C
Humidity: 88.40 %    Temperature: 22.00 *C
Humidity: 88.40 %    Temperature: 22.00 *C
Humidity: 88.50 %    Temperature: 22.00 *C
Humidity: 88.50 %    Temperature: 22.00 *C
Humidity: 88.50 %    Temperature: 22.00 *C
Humidity: 88.50 %    Temperature: 22.00 *C
Humidity: 88.50 %    Temperature: 22.00 *C
Humidity: 88.50 %    Temperature: 22.00 *C
Humidity: 88.50 %    Temperature: 22.00 *C
Humidity: 88.50 %    Temperature: 22.00 *C
Humidity: 88.60 %    Temperature: 22.00 *C
Humidity: 88.60 %    Temperature: 22.00 *C
Humidity: 88.60 %    Temperature: 22.00 *C
Humidity: 88.60 %    Temperature: 22.00 *C
Humidity: 88.70 %    Temperature: 22.00 *C
Humidity: 88.70 %    Temperature: 22.00 *C
Humidity: 88.70 %    Temperature: 22.00 *C
Humidity: 88.70 %    Temperature: 22.00 *C
Humidity: 88.80 %    Temperature: 22.00 *C
Humidity: 88.80 %    Temperature: 22.00 *C
Humidity: 88.80 %    Temperature: 22.00 *C
Humidity: 88.80 %    Temperature: 22.00 *C
Humidity: 88.80 %    Temperature: 22.00 *C
Humidity: 88.80 %    Temperature: 22.00 *C
Humidity: 88.80 %    Temperature: 22.00 *C
Humidity: 88.80 %    Temperature: 22.00 *C
Humidity: 88.90 %    Temperature: 22.00 *C
Humidity: 88.90 %    Temperature: 22.00 *C
Humidity: 88.90 %    Temperature: 22.00 *C
Humidity: 88.90 %    Temperature: 22.00 *C
Humidity: 89.10 %    Temperature: 22.10 *C
Humidity: 89.10 %    Temperature: 22.10 *C
Humidity: 89.10 %    Temperature: 22.10 *C
Humidity: 89.10 %    Temperature: 22.10 *C
Humidity: 89.10 %    Temperature: 22.10 *C
Humidity: 89.10 %    Temperature: 22.10 *C
Humidity: 89.10 %    Temperature: 22.10 *C
Humidity: 89.10 %    Temperature: 22.10 *C
Humidity: 89.20 %    Temperature: 22.10 *C
Humidity: 89.20 %    Temperature: 22.10 *C
Humidity: 89.20 %    Temperature: 22.10 *C
Humidity: 89.20 %    Temperature: 22.10 *C
Humidity: 89.20 %    Temperature: 22.10 *C
Humidity: 89.20 %    Temperature: 22.10 *C
Humidity: 89.20 %    Temperature: 22.10 *C
Humidity: 89.20 %    Temperature: 22.10 *C
Humidity: 89.30 %    Temperature: 22.10 *C
Humidity: 89.30 %    Temperature: 22.10 *C
Humidity: 89.30 %    Temperature: 22.10 *C
Humidity: 89.30 %    Temperature: 22.10 *C
Humidity: 89.30 %    Temperature: 22.10 *C
Humidity: 89.30 %    Temperature: 22.10 *C
Humidity: 89.30 %    Temperature: 22.10 *C
Humidity: 89.30 %    Temperature: 22.10 *C
Humidity: 89.40 %    Temperature: 22.20 *C
Humidity: 89.40 %    Temperature: 22.20 *C
Humidity: 89.40 %    Temperature: 22.20 *C
Humidity: 89.40 %    Temperature: 22.20 *C
Humidity: 89.40 %    Temperature: 22.20 *C
Humidity: 89.40 %    Temperature: 22.20 *C
Humidity: 89.40 %    Temperature: 22.20 *C
Humidity: 89.40 %    Temperature: 22.20 *C
Humidity: 89.40 %    Temperature: 22.20 *C
Humidity: 89.40 %    Temperature: 22.20 *C
Humidity: 89.40 %    Temperature: 22.20 *C
Humidity: 89.40 %    Temperature: 22.20 *C
Humidity: 89.50 %    Temperature: 22.20 *C
Humidity: 89.50 %    Temperature: 22.20 *C
Humidity: 89.50 %    Temperature: 22.20 *C
Humidity: 89.50 %    Temperature: 22.20 *C
Humidity: 89.50 %    Temperature: 22.20 *C
Humidity: 89.50 %    Temperature: 22.20 *C
Humidity: 89.50 %    Temperature: 22.20 *C
Humidity: 89.50 %    Temperature: 22.20 *C
Humidity: 89.60 %    Temperature: 22.20 *C
Humidity: 89.60 %    Temperature: 22.20 *C
Humidity: 89.60 %    Temperature: 22.20 *C
Humidity: 89.60 %    Temperature: 22.20 *C
Humidity: 89.70 %    Temperature: 22.30 *C
Humidity: 89.70 %    Temperature: 22.30 *C
Humidity: 89.70 %    Temperature: 22.30 *C
Humidity: 89.70 %    Temperature: 22.30 *C
Humidity: 89.80 %    Temperature: 22.30 *C
Humidity: 89.80 %    Temperature: 22.30 *C
Humidity: 89.80 %    Temperature: 22.30 *C
Humidity: 89.80 %    Temperature: 22.30 *C
Humidity: 89.80 %    Temperature: 22.30 *C
Humidity: 89.80 %    Temperature: 22.30 *C
Humidity: 89.80 %    Temperature: 22.30 *C
Humidity: 89.80 %    Temperature: 22.30 *C
Humidity: 89.80 %    Temperature: 22.30 *C
Humidity: 89.80 %    Temperature: 22.30 *C
Humidity: 89.80 %    Temperature: 22.30 *C
Humidity: 89.80 %    Temperature: 22.30 *C
Humidity: 89.90 %    Temperature: 22.30 *C
Humidity: 89.90 %    Temperature: 22.30 *C
Humidity: 89.90 %    Temperature: 22.30 *C
Humidity: 89.90 %    Temperature: 22.30 *C
Humidity: 89.90 %    Temperature: 22.30 *C
Humidity: 89.90 %    Temperature: 22.30 *C
Humidity: 89.90 %    Temperature: 22.30 *C
Humidity: 89.90 %    Temperature: 22.30 *C
Humidity: 89.90 %    Temperature: 22.40 *C
Humidity: 89.90 %    Temperature: 22.40 *C
Humidity: 89.90 %    Temperature: 22.40 *C
Humidity: 89.90 %    Temperature: 22.40 *C
Humidity: 90.00 %    Temperature: 22.40 *C
Humidity: 90.00 %    Temperature: 22.40 *C
Humidity: 90.00 %    Temperature: 22.40 *C
Humidity: 90.00 %    Temperature: 22.40 *C
Humidity: 90.00 %    Temperature: 22.40 *C
Humidity: 90.00 %    Temperature: 22.40 *C
Humidity: 90.00 %    Temperature: 22.40 *C
Humidity: 90.00 %    Temperature: 22.40 *C
Humidity: 90.00 %    Temperature: 22.40 *C
Humidity: 90.00 %    Temperature: 22.40 *C
Humidity: 90.00 %    Temperature: 22.40 *C
Humidity: 90.00 %    Temperature: 22.40 *C
Humidity: 90.10 %    Temperature: 22.40 *C
Humidity: 90.10 %    Temperature: 22.40 *C
Humidity: 90.10 %    Temperature: 22.40 *C
Humidity: 90.10 %    Temperature: 22.40 *C
Humidity: 90.10 %    Temperature: 22.40 *C
Humidity: 90.10 %    Temperature: 22.40 *C
Humidity: 90.10 %    Temperature: 22.40 *C
Humidity: 90.10 %    Temperature: 22.40 *C
Humidity: 90.20 %    Temperature: 22.50 *C
Humidity: 90.20 %    Temperature: 22.50 *C
Humidity: 90.20 %    Temperature: 22.50 *C
Humidity: 90.20 %    Temperature: 22.50 *C
Humidity: 90.20 %    Temperature: 22.50 *C
Humidity: 90.20 %    Temperature: 22.50 *C
Humidity: 90.20 %    Temperature: 22.50 *C
Humidity: 90.20 %    Temperature: 22.50 *C
Humidity: 90.30 %    Temperature: 22.50 *C
Humidity: 90.30 %    Temperature: 22.50 *C
Humidity: 90.30 %    Temperature: 22.50 *C
Humidity: 90.30 %    Temperature: 22.50 *C
Humidity: 90.30 %    Temperature: 22.50 *C
Humidity: 90.30 %    Temperature: 22.50 *C
Humidity: 90.30 %    Temperature: 22.50 *C
Humidity: 90.30 %    Temperature: 22.50 *C
Humidity: 90.30 %    Temperature: 22.50 *C
Humidity: 90.30 %    Temperature: 22.50 *C
Humidity: 90.30 %    Temperature: 22.50 *C
Humidity: 90.30 %    Temperature: 22.50 *C
Humidity: 90.30 %    Temperature: 22.50 *C
Humidity: 90.30 %    Temperature: 22.50 *C
Humidity: 90.30 %    Temperature: 22.50 *C
Humidity: 90.30 %    Temperature: 22.50 *C
Humidity: 90.30 %    Temperature: 22.50 *C
Humidity: 90.30 %    Temperature: 22.50 *C
Humidity: 90.30 %    Temperature: 22.50 *C
Humidity: 90.30 %    Temperature: 22.50 *C
Humidity: 90.40 %    Temperature: 22.50 *C
Humidity: 90.40 %    Temperature: 22.50 *C
Humidity: 90.40 %    Temperature: 22.50 *C
Humidity: 90.40 %    Temperature: 22.50 *C
Humidity: 90.40 %    Temperature: 22.60 *C
Humidity: 90.40 %    Temperature: 22.60 *C
Humidity: 90.40 %    Temperature: 22.60 *C
Humidity: 90.40 %    Temperature: 22.60 *C
Humidity: 90.40 %    Temperature: 22.60 *C
Humidity: 90.40 %    Temperature: 22.60 *C
Humidity: 90.40 %    Temperature: 22.60 *C
Humidity: 90.40 %    Temperature: 22.60 *C
Humidity: 90.40 %    Temperature: 22.60 *C
Humidity: 90.40 %    Temperature: 22.60 *C
Humidity: 90.40 %    Temperature: 22.60 *C
Humidity: 90.40 %    Temperature: 22.60 *C
Humidity: 90.50 %    Temperature: 22.60 *C
Humidity: 90.50 %    Temperature: 22.60 *C
Humidity: 90.50 %    Temperature: 22.60 *C
Humidity: 90.50 %    Temperature: 22.60 *C
Humidity: 90.50 %    Temperature: 22.60 *C
Humidity: 90.50 %    Temperature: 22.60 *C
Humidity: 90.50 %    Temperature: 22.60 *C
Humidity: 90.50 %    Temperature: 22.60 *C
Humidity: 90.60 %    Temperature: 22.70 *C
Humidity: 90.60 %    Temperature: 22.70 *C
Humidity: 90.60 %    Temperature: 22.70 *C
Humidity: 90.60 %    Temperature: 22.70 *C
Humidity: 90.60 %    Temperature: 22.70 *C
Humidity: 90.60 %    Temperature: 22.70 *C
Humidity: 90.60 %    Temperature: 22.70 *C
Humidity: 90.60 %    Temperature: 22.70 *C
Humidity: 90.60 %    Temperature: 22.70 *C
Humidity: 90.60 %    Temperature: 22.70 *C
Humidity: 90.60 %    Temperature: 22.70 *C
Humidity: 90.60 %    Temperature: 22.70 *C
Humidity: 90.60 %    Temperature: 22.70 *C
Humidity: 90.60 %    Temperature: 22.70 *C
Humidity: 90.60 %    Temperature: 22.70 *C
Humidity: 90.60 %    Temperature: 22.70 *C
Humidity: 90.70 %    Temperature: 22.70 *C
Humidity: 90.70 %    Temperature: 22.70 *C
Humidity: 90.70 %    Temperature: 22.70 *C
Humidity: 90.70 %    Temperature: 22.70 *C
Humidity: 90.60 %    Temperature: 22.70 *C
Humidity: 90.60 %    Temperature: 22.70 *C
Humidity: 90.60 %    Temperature: 22.70 *C
Humidity: 90.60 %    Temperature: 22.70 *C
Humidity: 90.70 %    Temperature: 22.70 *C
Humidity: 90.70 %    Temperature: 22.70 *C
Humidity: 90.70 %    Temperature: 22.70 *C
Humidity: 90.70 %    Temperature: 22.70 *C
Humidity: 90.70 %    Temperature: 22.80 *C
Humidity: 90.70 %    Temperature: 22.80 *C
Humidity: 90.70 %    Temperature: 22.80 *C
Humidity: 90.70 %    Temperature: 22.80 *C
Humidity: 90.70 %    Temperature: 22.80 *C
Humidity: 90.70 %    Temperature: 22.80 *C
Humidity: 90.70 %    Temperature: 22.80 *C
Humidity: 90.70 %    Temperature: 22.80 *C
Humidity: 90.70 %    Temperature: 22.80 *C
Humidity: 90.70 %    Temperature: 22.80 *C
Humidity: 90.70 %    Temperature: 22.80 *C
Humidity: 90.70 %    Temperature: 22.80 *C
Humidity: 90.70 %    Temperature: 22.80 *C
Humidity: 90.70 %    Temperature: 22.80 *C
Humidity: 90.70 %    Temperature: 22.80 *C
Humidity: 90.70 %    Temperature: 22.80 *C
Humidity: 90.70 %    Temperature: 22.80 *C
Humidity: 90.70 %    Temperature: 22.80 *C
Humidity: 90.70 %    Temperature: 22.80 *C
Humidity: 90.70 %    Temperature: 22.80 *C
Humidity: 90.80 %    Temperature: 22.80 *C
Humidity: 90.80 %    Temperature: 22.80 *C
Humidity: 90.80 %    Temperature: 22.80 *C
Humidity: 90.80 %    Temperature: 22.80 *C
Humidity: 90.80 %    Temperature: 22.80 *C
Humidity: 90.80 %    Temperature: 22.80 *C
Humidity: 90.80 %    Temperature: 22.80 *C
Humidity: 90.80 %    Temperature: 22.80 *C
Humidity: 90.80 %    Temperature: 22.80 *C
Humidity: 90.80 %    Temperature: 22.80 *C
Humidity: 90.80 %    Temperature: 22.80 *C
Humidity: 90.80 %    Temperature: 22.80 *C
Humidity: 90.90 %    Temperature: 22.90 *C
Humidity: 90.90 %    Temperature: 22.90 *C
Humidity: 90.90 %    Temperature: 22.90 *C
Humidity: 90.90 %    Temperature: 22.90 *C
Humidity: 90.90 %    Temperature: 22.90 *C
Humidity: 90.90 %    Temperature: 22.90 *C
Humidity: 90.90 %    Temperature: 22.90 *C
Humidity: 90.90 %    Temperature: 22.90 *C
Humidity: 90.90 %    Temperature: 22.90 *C
Humidity: 90.90 %    Temperature: 22.90 *C
Humidity: 90.90 %    Temperature: 22.90 *C
Humidity: 90.90 %    Temperature: 22.90 *C
Humidity: 91.00 %    Temperature: 22.90 *C
Humidity: 91.00 %    Temperature: 22.90 *C
Humidity: 91.00 %    Temperature: 22.90 *C
Humidity: 91.00 %    Temperature: 22.90 *C
Humidity: 91.00 %    Temperature: 22.90 *C
Humidity: 91.00 %    Temperature: 22.90 *C
Humidity: 91.00 %    Temperature: 22.90 *C
Humidity: 91.00 %    Temperature: 22.90 *C
Humidity: 91.00 %    Temperature: 22.90 *C
Humidity: 91.00 %    Temperature: 22.90 *C
Humidity: 91.00 %    Temperature: 22.90 *C
Humidity: 91.00 %    Temperature: 22.90 *C
Humidity: 91.00 %    Temperature: 23.00 *C
Humidity: 91.00 %    Temperature: 23.00 *C
Humidity: 91.00 %    Temperature: 23.00 *C
Humidity: 91.00 %    Temperature: 23.00 *C
Humidity: 91.00 %    Temperature: 22.90 *C
Humidity: 91.00 %    Temperature: 22.90 *C
Humidity: 91.00 %    Temperature: 22.90 *C
Humidity: 91.00 %    Temperature: 22.90 *C
Humidity: 91.00 %    Temperature: 23.00 *C
Humidity: 91.00 %    Temperature: 23.00 *C
Humidity: 91.00 %    Temperature: 23.00 *C
Humidity: 91.00 %    Temperature: 23.00 *C
Humidity: 91.00 %    Temperature: 23.00 *C
Humidity: 91.00 %    Temperature: 23.00 *C
Humidity: 91.00 %    Temperature: 23.00 *C
Humidity: 91.00 %    Temperature: 23.00 *C
Humidity: 91.00 %    Temperature: 23.00 *C
Humidity: 91.00 %    Temperature: 23.00 *C
Humidity: 91.00 %    Temperature: 23.00 *C
Humidity: 91.00 %    Temperature: 23.00 *C
Humidity: 91.00 %    Temperature: 23.00 *C
Humidity: 91.00 %    Temperature: 23.00 *C
Humidity: 91.00 %    Temperature: 23.00 *C
Humidity: 91.00 %    Temperature: 23.00 *C
Humidity: 91.00 %    Temperature: 23.00 *C
Humidity: 91.00 %    Temperature: 23.00 *C
Humidity: 91.00 %    Temperature: 23.00 *C
Humidity: 91.00 %    Temperature: 23.00 *C
Humidity: 91.00 %    Temperature: 23.00 *C
Humidity: 91.00 %    Temperature: 23.00 *C
Humidity: 91.00 %    Temperature: 23.00 *C
Humidity: 91.00 %    Temperature: 23.00 *C
Humidity: 91.10 %    Temperature: 23.10 *C
Humidity: 91.10 %    Temperature: 23.10 *C
Humidity: 91.10 %    Temperature: 23.10 *C
Humidity: 91.10 %    Temperature: 23.10 *C
Humidity: 91.10 %    Temperature: 23.10 *C
Humidity: 91.10 %    Temperature: 23.10 *C
Humidity: 91.10 %    Temperature: 23.10 *C
Humidity: 91.10 %    Temperature: 23.10 *C
Humidity: 91.10 %    Temperature: 23.10 *C
Humidity: 91.10 %    Temperature: 23.10 *C
Humidity: 91.10 %    Temperature: 23.10 *C
Humidity: 91.10 %    Temperature: 23.10 *C
Humidity: 91.10 %    Temperature: 23.10 *C
Humidity: 91.10 %    Temperature: 23.10 *C
Humidity: 91.10 %    Temperature: 23.10 *C
Humidity: 91.10 %    Temperature: 23.10 *C
Humidity: 91.10 %    Temperature: 23.10 *C
Humidity: 91.10 %    Temperature: 23.10 *C
Humidity: 91.10 %    Temperature: 23.10 *C
Humidity: 91.10 %    Temperature: 23.10 *C
Humidity: 91.20 %    Temperature: 23.10 *C
Humidity: 91.20 %    Temperature: 23.10 *C
Humidity: 91.20 %    Temperature: 23.10 *C
Humidity: 91.20 %    Temperature: 23.10 *C
Humidity: 91.20 %    Temperature: 23.20 *C
Humidity: 91.20 %    Temperature: 23.20 *C
Humidity: 91.20 %    Temperature: 23.20 *C
Humidity: 91.20 %    Temperature: 23.20 *C
Humidity: 91.20 %    Temperature: 23.20 *C
Humidity: 91.20 %    Temperature: 23.20 *C
Humidity: 91.20 %    Temperature: 23.20 *C
Humidity: 91.20 %    Temperature: 23.20 *C
Humidity: 91.20 %    Temperature: 23.20 *C
Humidity: 91.20 %    Temperature: 23.20 *C
Humidity: 91.20 %    Temperature: 23.20 *C
Humidity: 91.20 %    Temperature: 23.20 *C
Humidity: 91.20 %    Temperature: 23.20 *C
Humidity: 91.20 %    Temperature: 23.20 *C
Humidity: 91.20 %    Temperature: 23.20 *C
Humidity: 91.20 %    Temperature: 23.20 *C
Humidity: 91.20 %    Temperature: 23.20 *C
Humidity: 91.20 %    Temperature: 23.20 *C
Humidity: 91.20 %    Temperature: 23.20 *C
Humidity: 91.20 %    Temperature: 23.20 *C
Humidity: 91.20 %    Temperature: 23.20 *C
Humidity: 91.20 %    Temperature: 23.20 *C
Humidity: 91.20 %    Temperature: 23.20 *C
Humidity: 91.20 %    Temperature: 23.20 *C
Humidity: 91.20 %    Temperature: 23.20 *C
Humidity: 91.20 %    Temperature: 23.20 *C
Humidity: 91.20 %    Temperature: 23.20 *C
Humidity: 91.20 %    Temperature: 23.20 *C
Humidity: 91.30 %    Temperature: 23.30 *C
Humidity: 91.30 %    Temperature: 23.30 *C
Humidity: 91.30 %    Temperature: 23.30 *C
Humidity: 91.30 %    Temperature: 23.30 *C
Humidity: 91.30 %    Temperature: 23.30 *C
Humidity: 91.30 %    Temperature: 23.30 *C
Humidity: 91.30 %    Temperature: 23.30 *C
Humidity: 91.30 %    Temperature: 23.30 *C
Humidity: 91.30 %    Temperature: 23.30 *C
Humidity: 91.30 %    Temperature: 23.30 *C
Humidity: 91.30 %    Temperature: 23.30 *C
Humidity: 91.30 %    Temperature: 23.30 *C
Humidity: 91.30 %    Temperature: 23.30 *C
Humidity: 91.30 %    Temperature: 23.30 *C
Humidity: 91.30 %    Temperature: 23.30 *C
Humidity: 91.30 %    Temperature: 23.30 *C
Humidity: 91.30 %    Temperature: 23.30 *C
Humidity: 91.30 %    Temperature: 23.30 *C
Humidity: 91.30 %    Temperature: 23.30 *C
Humidity: 91.30 %    Temperature: 23.30 *C
Humidity: 91.30 %    Temperature: 23.30 *C
Humidity: 91.30 %    Temperature: 23.30 *C
Humidity: 91.30 %    Temperature: 23.30 *C
Humidity: 91.30 %    Temperature: 23.30 *C
Humidity: 91.30 %    Temperature: 23.30 *C
Humidity: 91.30 %    Temperature: 23.30 *C
Humidity: 91.30 %    Temperature: 23.30 *C
Humidity: 91.30 %    Temperature: 23.30 *C
Humidity: 91.30 %    Temperature: 23.40 *C
Humidity: 91.30 %    Temperature: 23.40 *C
Humidity: 91.30 %    Temperature: 23.40 *C
Humidity: 91.30 %    Temperature: 23.40 *C
Humidity: 91.30 %    Temperature: 23.40 *C
Humidity: 91.30 %    Temperature: 23.40 *C
Humidity: 91.30 %    Temperature: 23.40 *C
Humidity: 91.30 %    Temperature: 23.40 *C
Humidity: 91.30 %    Temperature: 23.40 *C
Humidity: 91.30 %    Temperature: 23.40 *C
Humidity: 91.30 %    Temperature: 23.40 *C
Humidity: 91.30 %    Temperature: 23.40 *C
Humidity: 91.30 %    Temperature: 23.40 *C
Humidity: 91.30 %    Temperature: 23.40 *C
Humidity: 91.30 %    Temperature: 23.40 *C
Humidity: 91.30 %    Temperature: 23.40 *C
Humidity: 91.30 %    Temperature: 23.40 *C
Humidity: 91.30 %    Temperature: 23.40 *C
Humidity: 91.30 %    Temperature: 23.40 *C
Humidity: 91.30 %    Temperature: 23.40 *C
Humidity: 91.40 %    Temperature: 23.50 *C
Humidity: 91.40 %    Temperature: 23.50 *C
Humidity: 91.40 %    Temperature: 23.50 *C
Humidity: 91.40 %    Temperature: 23.50 *C
Humidity: 91.40 %    Temperature: 23.50 *C
Humidity: 91.40 %    Temperature: 23.50 *C
Humidity: 91.40 %    Temperature: 23.50 *C
Humidity: 91.40 %    Temperature: 23.50 *C
Humidity: 91.40 %    Temperature: 23.50 *C
Humidity: 91.40 %    Temperature: 23.50 *C
Humidity: 91.40 %    Temperature: 23.50 *C
Humidity: 91.40 %    Temperature: 23.50 *C
Humidity: 91.40 %    Temperature: 23.50 *C
Humidity: 91.40 %    Temperature: 23.50 *C
Humidity: 91.40 %    Temperature: 23.50 *C
Humidity: 91.40 %    Temperature: 23.50 *C
Humidity: 91.40 %    Temperature: 23.50 *C
Humidity: 91.40 %    Temperature: 23.50 *C
Humidity: 91.40 %    Temperature: 23.50 *C
Humidity: 91.40 %    Temperature: 23.50 *C
Humidity: 91.40 %    Temperature: 23.50 *C
Humidity: 91.40 %    Temperature: 23.50 *C
Humidity: 91.40 %    Temperature: 23.50 *C
Humidity: 91.40 %    Temperature: 23.50 *C
Humidity: 91.40 %    Temperature: 23.50 *C
Humidity: 91.40 %    Temperature: 23.50 *C
Humidity: 91.40 %    Temperature: 23.50 *C
Humidity: 91.40 %    Temperature: 23.50 *C
Humidity: 91.40 %    Temperature: 23.50 *C
Humidity: 91.40 %    Temperature: 23.50 *C
Humidity: 91.40 %    Temperature: 23.50 *C
Humidity: 91.40 %    Temperature: 23.50 *C
Humidity: 91.40 %    Temperature: 23.60 *C
Humidity: 91.40 %    Temperature: 23.60 *C
Humidity: 91.40 %    Temperature: 23.60 *C
Humidity: 91.40 %    Temperature: 23.60 *C
Humidity: 91.40 %    Temperature: 23.60 *C
Humidity: 91.40 %    Temperature: 23.60 *C
Humidity: 91.40 %    Temperature: 23.60 *C
Humidity: 91.40 %    Temperature: 23.60 *C
Humidity: 91.40 %    Temperature: 23.60 *C
Humidity: 91.40 %    Temperature: 23.60 *C
Humidity: 91.40 %    Temperature: 23.60 *C
Humidity: 91.40 %    Temperature: 23.60 *C
Humidity: 91.40 %    Temperature: 23.60 *C
Humidity: 91.40 %    Temperature: 23.60 *C
Humidity: 91.40 %    Temperature: 23.60 *C
Humidity: 91.40 %    Temperature: 23.60 *C
Humidity: 91.40 %    Temperature: 23.60 *C
Humidity: 91.40 %    Temperature: 23.60 *C
Humidity: 91.40 %    Temperature: 23.60 *C
Humidity: 91.40 %    Temperature: 23.60 *C
Humidity: 91.40 %    Temperature: 23.60 *C
Humidity: 91.40 %    Temperature: 23.60 *C
Humidity: 91.40 %    Temperature: 23.60 *C
Humidity: 91.40 %    Temperature: 23.60 *C
Humidity: 91.50 %    Temperature: 23.70 *C
Humidity: 91.50 %    Temperature: 23.70 *C
Humidity: 91.50 %    Temperature: 23.70 *C
Humidity: 91.50 %    Temperature: 23.70 *C
Humidity: 91.50 %    Temperature: 23.70 *C
Humidity: 91.50 %    Temperature: 23.70 *C
Humidity: 91.50 %    Temperature: 23.70 *C
Humidity: 91.50 %    Temperature: 23.70 *C
Humidity: 91.50 %    Temperature: 23.70 *C
Humidity: 91.50 %    Temperature: 23.70 *C
Humidity: 91.50 %    Temperature: 23.70 *C
Humidity: 91.50 %    Temperature: 23.70 *C
Humidity: 91.50 %    Temperature: 23.70 *C
Humidity: 91.50 %    Temperature: 23.70 *C
Humidity: 91.50 %    Temperature: 23.70 *C
Humidity: 91.50 %    Temperature: 23.70 *C
Humidity: 91.60 %    Temperature: 23.70 *C
Humidity: 91.60 %    Temperature: 23.70 *C
Humidity: 91.60 %    Temperature: 23.70 *C
Humidity: 91.60 %    Temperature: 23.70 *C
Humidity: 91.50 %    Temperature: 23.70 *C
Humidity: 91.50 %    Temperature: 23.70 *C
Humidity: 91.50 %    Temperature: 23.70 *C
Humidity: 91.50 %    Temperature: 23.70 *C
Humidity: 91.50 %    Temperature: 23.80 *C
Humidity: 91.50 %    Temperature: 23.80 *C
Humidity: 91.50 %    Temperature: 23.80 *C
Humidity: 91.50 %    Temperature: 23.80 *C
Humidity: 91.60 %    Temperature: 23.80 *C
Humidity: 91.60 %    Temperature: 23.80 *C
Humidity: 91.60 %    Temperature: 23.80 *C
Humidity: 91.60 %    Temperature: 23.80 *C
Humidity: 91.50 %    Temperature: 23.80 *C
Humidity: 91.50 %    Temperature: 23.80 *C
Humidity: 91.50 %    Temperature: 23.80 *C
Humidity: 91.50 %    Temperature: 23.80 *C
Humidity: 91.50 %    Temperature: 23.80 *C
Humidity: 91.50 %    Temperature: 23.80 *C
Humidity: 91.50 %    Temperature: 23.80 *C
Humidity: 91.50 %    Temperature: 23.80 *C
Humidity: 91.50 %    Temperature: 23.80 *C
Humidity: 91.50 %    Temperature: 23.80 *C
Humidity: 91.50 %    Temperature: 23.80 *C
Humidity: 91.50 %    Temperature: 23.80 *C
Humidity: 91.50 %    Temperature: 23.80 *C
Humidity: 91.50 %    Temperature: 23.80 *C
Humidity: 91.50 %    Temperature: 23.80 *C
Humidity: 91.50 %    Temperature: 23.80 *C
Humidity: 91.60 %    Temperature: 23.90 *C
Humidity: 91.60 %    Temperature: 23.90 *C
Humidity: 91.60 %    Temperature: 23.90 *C
Humidity: 91.60 %    Temperature: 23.90 *C
Humidity: 91.60 %    Temperature: 23.90 *C
Humidity: 91.60 %    Temperature: 23.90 *C
Humidity: 91.60 %    Temperature: 23.90 *C
Humidity: 91.60 %    Temperature: 23.90 *C
Humidity: 91.60 %    Temperature: 23.90 *C
Humidity: 91.60 %    Temperature: 23.90 *C
Humidity: 91.60 %    Temperature: 23.90 *C
Humidity: 91.60 %    Temperature: 23.90 *C
Humidity: 91.60 %    Temperature: 23.90 *C
Humidity: 91.60 %    Temperature: 23.90 *C
Humidity: 91.60 %    Temperature: 23.90 *C
Humidity: 91.60 %    Temperature: 23.90 *C
Humidity: 91.60 %    Temperature: 23.90 *C
Humidity: 91.60 %    Temperature: 23.90 *C
Humidity: 91.60 %    Temperature: 23.90 *C
Humidity: 91.60 %    Temperature: 23.90 *C
Humidity: 91.60 %    Temperature: 23.90 *C
Humidity: 91.60 %    Temperature: 23.90 *C
Humidity: 91.60 %    Temperature: 23.90 *C
Humidity: 91.60 %    Temperature: 23.90 *C
Humidity: 91.60 %    Temperature: 23.90 *C
Humidity: 91.60 %    Temperature: 23.90 *C
Humidity: 91.60 %    Temperature: 23.90 *C
Humidity: 91.60 %    Temperature: 23.90 *C
Humidity: 91.60 %    Temperature: 24.00 *C
Humidity: 91.60 %    Temperature: 24.00 *C
Humidity: 91.60 %    Temperature: 24.00 *C
Humidity: 91.60 %    Temperature: 24.00 *C
Humidity: 91.60 %    Temperature: 24.00 *C
Humidity: 91.60 %    Temperature: 24.00 *C
Humidity: 91.60 %    Temperature: 24.00 *C
Humidity: 91.60 %    Temperature: 24.00 *C
Humidity: 91.60 %    Temperature: 24.00 *C
Humidity: 91.60 %    Temperature: 24.00 *C
Humidity: 91.60 %    Temperature: 24.00 *C
Humidity: 91.60 %    Temperature: 24.00 *C
Humidity: 91.60 %    Temperature: 24.00 *C
Humidity: 91.60 %    Temperature: 24.00 *C
Humidity: 91.60 %    Temperature: 24.00 *C
Humidity: 91.60 %    Temperature: 24.00 *C
Humidity: 91.60 %    Temperature: 24.00 *C
Humidity: 91.60 %    Temperature: 24.00 *C
Humidity: 91.60 %    Temperature: 24.00 *C
Humidity: 91.60 %    Temperature: 24.00 *C
Humidity: 91.70 %    Temperature: 24.10 *C
Humidity: 91.70 %    Temperature: 24.10 *C
Humidity: 91.70 %    Temperature: 24.10 *C
Humidity: 91.70 %    Temperature: 24.10 *C
Humidity: 91.70 %    Temperature: 24.10 *C
Humidity: 91.70 %    Temperature: 24.10 *C
Humidity: 91.70 %    Temperature: 24.10 *C
Humidity: 91.70 %    Temperature: 24.10 *C
Humidity: 91.70 %    Temperature: 24.10 *C
Humidity: 91.70 %    Temperature: 24.10 *C
Humidity: 91.70 %    Temperature: 24.10 *C
Humidity: 91.70 %    Temperature: 24.10 *C
Humidity: 91.70 %    Temperature: 24.10 *C
Humidity: 91.70 %    Temperature: 24.10 *C
Humidity: 91.70 %    Temperature: 24.10 *C
Humidity: 91.70 %    Temperature: 24.10 *C
Humidity: 91.70 %    Temperature: 24.10 *C
Humidity: 91.70 %    Temperature: 24.10 *C
Humidity: 91.70 %    Temperature: 24.10 *C
Humidity: 91.70 %    Temperature: 24.10 *C
Humidity: 91.70 %    Temperature: 24.10 *C
Humidity: 91.70 %    Temperature: 24.10 *C
Humidity: 91.70 %    Temperature: 24.10 *C
Humidity: 91.70 %    Temperature: 24.10 *C
Humidity: 91.70 %    Temperature: 24.20 *C
Humidity: 91.70 %    Temperature: 24.20 *C
Humidity: 91.70 %    Temperature: 24.20 *C
Humidity: 91.70 %    Temperature: 24.20 *C
Humidity: 91.70 %    Temperature: 24.10 *C
Humidity: 91.70 %    Temperature: 24.10 *C
Humidity: 91.70 %    Temperature: 24.10 *C
Humidity: 91.70 %    Temperature: 24.10 *C
Humidity: 91.70 %    Temperature: 24.20 *C
Humidity: 91.70 %    Temperature: 24.20 *C
Humidity: 91.70 %    Temperature: 24.20 *C
Humidity: 91.70 %    Temperature: 24.20 *C
Humidity: 91.70 %    Temperature: 24.20 *C
Humidity: 91.70 %    Temperature: 24.20 *C
Humidity: 91.70 %    Temperature: 24.20 *C
Humidity: 91.70 %    Temperature: 24.20 *C
Humidity: 91.70 %    Temperature: 24.20 *C
Humidity: 91.70 %    Temperature: 24.20 *C
Humidity: 91.70 %    Temperature: 24.20 *C
Humidity: 91.70 %    Temperature: 24.20 *C
Humidity: 91.70 %    Temperature: 24.20 *C
Humidity: 91.70 %    Temperature: 24.20 *C
Humidity: 91.70 %    Temperature: 24.20 *C
Humidity: 91.70 %    Temperature: 24.20 *C
Humidity: 91.60 %    Temperature: 24.20 *C
Humidity: 91.60 %    Temperature: 24.20 *C
Humidity: 91.60 %    Temperature: 24.20 *C
Humidity: 91.60 %    Temperature: 24.20 *C
Humidity: 91.60 %    Temperature: 24.20 *C
Humidity: 91.60 %    Temperature: 24.20 *C
Humidity: 91.60 %    Temperature: 24.20 *C
Humidity: 91.60 %    Temperature: 24.20 *C
Humidity: 91.70 %    Temperature: 24.30 *C
Humidity: 91.70 %    Temperature: 24.30 *C
Humidity: 91.70 %    Temperature: 24.30 *C
Humidity: 91.70 %    Temperature: 24.30 *C
Humidity: 91.70 %    Temperature: 24.30 *C
Humidity: 91.70 %    Temperature: 24.30 *C
Humidity: 91.70 %    Temperature: 24.30 *C
Humidity: 91.70 %    Temperature: 24.30 *C
Humidity: 91.70 %    Temperature: 24.30 *C
Humidity: 91.70 %    Temperature: 24.30 *C
Humidity: 91.70 %    Temperature: 24.30 *C
Humidity: 91.70 %    Temperature: 24.30 *C
Humidity: 91.70 %    Temperature: 24.30 *C
Humidity: 91.70 %    Temperature: 24.30 *C
Humidity: 91.70 %    Temperature: 24.30 *C
Humidity: 91.70 %    Temperature: 24.30 *C
Humidity: 91.70 %    Temperature: 24.30 *C
Humidity: 91.70 %    Temperature: 24.30 *C
Humidity: 91.70 %    Temperature: 24.30 *C
Humidity: 91.70 %    Temperature: 24.30 *C
Humidity: 91.70 %    Temperature: 24.30 *C
Humidity: 91.70 %    Temperature: 24.30 *C
Humidity: 91.70 %    Temperature: 24.30 *C
Humidity: 91.70 %    Temperature: 24.30 *C
Humidity: 91.70 %    Temperature: 24.40 *C
Humidity: 91.70 %    Temperature: 24.40 *C
Humidity: 91.70 %    Temperature: 24.40 *C
Humidity: 91.70 %    Temperature: 24.40 *C
Humidity: 91.70 %    Temperature: 24.40 *C
Humidity: 91.70 %    Temperature: 24.40 *C
Humidity: 91.70 %    Temperature: 24.40 *C
Humidity: 91.70 %    Temperature: 24.40 *C
Humidity: 91.70 %    Temperature: 24.40 *C
Humidity: 91.70 %    Temperature: 24.40 *C
Humidity: 91.70 %    Temperature: 24.40 *C
Humidity: 91.70 %    Temperature: 24.40 *C
Humidity: 91.70 %    Temperature: 24.40 *C
Humidity: 91.70 %    Temperature: 24.40 *C
Humidity: 91.70 %    Temperature: 24.40 *C
Humidity: 91.70 %    Temperature: 24.40 *C
Humidity: 91.70 %    Temperature: 24.40 *C
Humidity: 91.70 %    Temperature: 24.40 *C
Humidity: 91.70 %    Temperature: 24.40 *C
Humidity: 91.70 %    Temperature: 24.40 *C
Humidity: 91.70 %    Temperature: 24.40 *C
Humidity: 91.70 %    Temperature: 24.40 *C
Humidity: 91.70 %    Temperature: 24.40 *C
Humidity: 91.70 %    Temperature: 24.40 *C
Humidity: 91.60 %    Temperature: 24.40 *C
Humidity: 91.60 %    Temperature: 24.40 *C
Humidity: 91.60 %    Temperature: 24.40 *C
Humidity: 91.60 %    Temperature: 24.40 *C
Humidity: 91.80 %    Temperature: 24.50 *C
Humidity: 91.80 %    Temperature: 24.50 *C
Humidity: 91.80 %    Temperature: 24.50 *C
Humidity: 91.80 %    Temperature: 24.50 *C
Humidity: 91.70 %    Temperature: 24.50 *C
Humidity: 91.70 %    Temperature: 24.50 *C
Humidity: 91.70 %    Temperature: 24.50 *C
Humidity: 91.70 %    Temperature: 24.50 *C
Humidity: 91.70 %    Temperature: 24.50 *C
Humidity: 91.70 %    Temperature: 24.50 *C
Humidity: 91.70 %    Temperature: 24.50 *C
Humidity: 91.70 %    Temperature: 24.50 *C
Humidity: 91.70 %    Temperature: 24.50 *C
Humidity: 91.70 %    Temperature: 24.50 *C
Humidity: 91.70 %    Temperature: 24.50 *C
Humidity: 91.70 %    Temperature: 24.50 *C
Humidity: 91.70 %    Temperature: 24.50 *C
Humidity: 91.70 %    Temperature: 24.50 *C
Humidity: 91.70 %    Temperature: 24.50 *C
Humidity: 91.70 %    Temperature: 24.50 *C
Humidity: 91.70 %    Temperature: 24.50 *C
Humidity: 91.70 %    Temperature: 24.50 *C
Humidity: 91.70 %    Temperature: 24.50 *C
Humidity: 91.70 %    Temperature: 24.50 *C
Humidity: 91.70 %    Temperature: 24.60 *C
Humidity: 91.70 %    Temperature: 24.60 *C
Humidity: 91.70 %    Temperature: 24.60 *C
Humidity: 91.70 %    Temperature: 24.60 *C
Humidity: 91.70 %    Temperature: 24.60 *C
Humidity: 91.70 %    Temperature: 24.60 *C
Humidity: 91.70 %    Temperature: 24.60 *C
Humidity: 91.70 %    Temperature: 24.60 *C
Humidity: 91.70 %    Temperature: 24.60 *C
Humidity: 91.70 %    Temperature: 24.60 *C
Humidity: 91.70 %    Temperature: 24.60 *C
Humidity: 91.70 %    Temperature: 24.60 *C
Humidity: 91.70 %    Temperature: 24.60 *C
Humidity: 91.70 %    Temperature: 24.60 *C
Humidity: 91.70 %    Temperature: 24.60 *C
Humidity: 91.70 %    Temperature: 24.60 *C
Humidity: 91.70 %    Temperature: 24.60 *C
Humidity: 91.70 %    Temperature: 24.60 *C
Humidity: 91.70 %    Temperature: 24.60 *C
Humidity: 91.70 %    Temperature: 24.60 *C
Humidity: 91.70 %    Temperature: 24.60 *C
Humidity: 91.70 %    Temperature: 24.60 *C
Humidity: 91.70 %    Temperature: 24.60 *C
Humidity: 91.70 %    Temperature: 24.60 *C
Humidity: 91.70 %    Temperature: 24.60 *C
Humidity: 91.70 %    Temperature: 24.60 *C
Humidity: 91.70 %    Temperature: 24.60 *C
Humidity: 91.70 %    Temperature: 24.60 *C
Humidity: 91.80 %    Temperature: 24.70 *C
Humidity: 91.80 %    Temperature: 24.70 *C
Humidity: 91.80 %    Temperature: 24.70 *C
Humidity: 91.80 %    Temperature: 24.70 *C
Humidity: 91.80 %    Temperature: 24.70 *C
Humidity: 91.80 %    Temperature: 24.70 *C
Humidity: 91.80 %    Temperature: 24.70 *C
Humidity: 91.80 %    Temperature: 24.70 *C
Humidity: 91.80 %    Temperature: 24.70 *C
Humidity: 91.80 %    Temperature: 24.70 *C
Humidity: 91.80 %    Temperature: 24.70 *C
Humidity: 91.80 %    Temperature: 24.70 *C
Humidity: 91.80 %    Temperature: 24.70 *C
Humidity: 91.80 %    Temperature: 24.70 *C
Humidity: 91.80 %    Temperature: 24.70 *C
Humidity: 91.80 %    Temperature: 24.70 *C
Humidity: 91.70 %    Temperature: 24.70 *C
Humidity: 91.70 %    Temperature: 24.70 *C
Humidity: 91.70 %    Temperature: 24.70 *C
Humidity: 91.70 %    Temperature: 24.70 *C
Humidity: 91.80 %    Temperature: 24.70 *C
Humidity: 91.80 %    Temperature: 24.70 *C
Humidity: 91.80 %    Temperature: 24.70 *C
Humidity: 91.80 %    Temperature: 24.70 *C
Humidity: 91.80 %    Temperature: 24.80 *C
Humidity: 91.80 %    Temperature: 24.80 *C
Humidity: 91.80 %    Temperature: 24.80 *C
Humidity: 91.80 %    Temperature: 24.80 *C
Humidity: 91.80 %    Temperature: 24.80 *C
Humidity: 91.80 %    Temperature: 24.80 *C
Humidity: 91.80 %    Temperature: 24.80 *C
Humidity: 91.80 %    Temperature: 24.80 *C
Humidity: 91.70 %    Temperature: 24.80 *C
Humidity: 91.70 %    Temperature: 24.80 *C
Humidity: 91.70 %    Temperature: 24.80 *C
Humidity: 91.70 %    Temperature: 24.80 *C
Humidity: 91.70 %    Temperature: 24.80 *C
Humidity: 91.70 %    Temperature: 24.80 *C
Humidity: 91.70 %    Temperature: 24.80 *C
Humidity: 91.70 %    Temperature: 24.80 *C
Humidity: 91.70 %    Temperature: 24.80 *C
Humidity: 91.70 %    Temperature: 24.80 *C
Humidity: 91.70 %    Temperature: 24.80 *C
Humidity: 91.70 %    Temperature: 24.80 *C
Humidity: 91.70 %    Temperature: 24.80 *C
Humidity: 91.70 %    Temperature: 24.80 *C
Humidity: 91.70 %    Temperature: 24.80 *C
Humidity: 91.70 %    Temperature: 24.80 *C
Humidity: 91.70 %    Temperature: 24.80 *C
Humidity: 91.70 %    Temperature: 24.80 *C
Humidity: 91.70 %    Temperature: 24.80 *C
Humidity: 91.70 %    Temperature: 24.80 *C
Humidity: 91.80 %    Temperature: 24.90 *C
Humidity: 91.80 %    Temperature: 24.90 *C
Humidity: 91.80 %    Temperature: 24.90 *C
Humidity: 91.80 %    Temperature: 24.90 *C
Humidity: 91.80 %    Temperature: 24.90 *C
Humidity: 91.80 %    Temperature: 24.90 *C
Humidity: 91.80 %    Temperature: 24.90 *C
Humidity: 91.80 %    Temperature: 24.90 *C
Humidity: 91.80 %    Temperature: 24.90 *C
Humidity: 91.80 %    Temperature: 24.90 *C
Humidity: 91.80 %    Temperature: 24.90 *C
Humidity: 91.80 %    Temperature: 24.90 *C
Humidity: 91.70 %    Temperature: 24.90 *C
Humidity: 91.70 %    Temperature: 24.90 *C
Humidity: 91.70 %    Temperature: 24.90 *C
Humidity: 91.70 %    Temperature: 24.90 *C
Humidity: 91.70 %    Temperature: 24.90 *C
Humidity: 91.70 %    Temperature: 24.90 *C
Humidity: 91.70 %    Temperature: 24.90 *C
Humidity: 91.70 %    Temperature: 24.90 *C
Humidity: 91.70 %    Temperature: 24.90 *C
Humidity: 91.70 %    Temperature: 24.90 *C
Humidity: 91.70 %    Temperature: 24.90 *C
Humidity: 91.70 %    Temperature: 24.90 *C
Humidity: 91.70 %    Temperature: 25.00 *C
Humidity: 91.70 %    Temperature: 25.00 *C
Humidity: 91.70 %    Temperature: 25.00 *C
Humidity: 91.70 %    Temperature: 25.00 *C
Humidity: 91.70 %    Temperature: 25.00 *C
Humidity: 91.70 %    Temperature: 25.00 *C
Humidity: 91.70 %    Temperature: 25.00 *C
Humidity: 91.70 %    Temperature: 25.00 *C
Humidity: 91.60 %    Temperature: 25.00 *C
Humidity: 91.60 %    Temperature: 25.00 *C
Humidity: 91.60 %    Temperature: 25.00 *C
Humidity: 91.60 %    Temperature: 25.00 *C
Humidity: 91.60 %    Temperature: 25.00 *C
Humidity: 91.60 %    Temperature: 25.00 *C
Humidity: 91.60 %    Temperature: 25.00 *C
Humidity: 91.60 %    Temperature: 25.00 *C
Humidity: 91.60 %    Temperature: 25.00 *C
Humidity: 91.60 %    Temperature: 25.00 *C
Humidity: 91.60 %    Temperature: 25.00 *C
Humidity: 91.60 %    Temperature: 25.00 *C
Humidity: 91.60 %    Temperature: 25.00 *C
Humidity: 91.60 %    Temperature: 25.00 *C
Humidity: 91.60 %    Temperature: 25.00 *C
Humidity: 91.60 %    Temperature: 25.00 *C

Heater powered OFF. 

Humidity: 91.50 %    Temperature: 25.00 *C
Humidity: 91.50 %    Temperature: 25.00 *C
Humidity: 91.50 %    Temperature: 25.00 *C
Humidity: 91.50 %    Temperature: 25.00 *C
Humidity: 91.50 %    Temperature: 25.00 *C
Humidity: 91.50 %    Temperature: 25.00 *C
Humidity: 91.50 %    Temperature: 25.00 *C
Humidity: 91.50 %    Temperature: 25.00 *C
Humidity: 91.50 %    Temperature: 25.00 *C
Humidity: 91.50 %    Temperature: 25.00 *C
Humidity: 91.50 %    Temperature: 25.00 *C
Humidity: 91.50 %    Temperature: 25.00 *C
Humidity: 91.40 %    Temperature: 25.00 *C
Humidity: 91.40 %    Temperature: 25.00 *C
Humidity: 91.40 %    Temperature: 25.00 *C
Humidity: 91.40 %    Temperature: 25.00 *C
Humidity: 91.40 %    Temperature: 25.10 *C
Humidity: 91.40 %    Temperature: 25.10 *C
Humidity: 91.40 %    Temperature: 25.10 *C
Humidity: 91.40 %    Temperature: 25.10 *C
Humidity: 91.40 %    Temperature: 25.10 *C
Humidity: 91.40 %    Temperature: 25.10 *C
Humidity: 91.40 %    Temperature: 25.10 *C
Humidity: 91.40 %    Temperature: 25.10 *C
Humidity: 91.30 %    Temperature: 25.10 *C
Humidity: 91.30 %    Temperature: 25.10 *C
Humidity: 91.30 %    Temperature: 25.10 *C
Humidity: 91.30 %    Temperature: 25.10 *C
Humidity: 91.30 %    Temperature: 25.10 *C
Humidity: 91.30 %    Temperature: 25.10 *C
Humidity: 91.30 %    Temperature: 25.10 *C
Humidity: 91.30 %    Temperature: 25.10 *C
Humidity: 91.20 %    Temperature: 25.10 *C
Humidity: 91.20 %    Temperature: 25.10 *C
Humidity: 91.20 %    Temperature: 25.10 *C
Humidity: 91.20 %    Temperature: 25.10 *C
Humidity: 91.20 %    Temperature: 25.10 *C
Humidity: 91.20 %    Temperature: 25.10 *C
Humidity: 91.20 %    Temperature: 25.10 *C
Humidity: 91.20 %    Temperature: 25.10 *C
Humidity: 91.20 %    Temperature: 25.10 *C
Humidity: 91.20 %    Temperature: 25.10 *C
Humidity: 91.20 %    Temperature: 25.10 *C
Humidity: 91.20 %    Temperature: 25.10 *C
Humidity: 91.10 %    Temperature: 25.10 *C
Humidity: 91.10 %    Temperature: 25.10 *C
Humidity: 91.10 %    Temperature: 25.10 *C
Humidity: 91.10 %    Temperature: 25.10 *C
Humidity: 91.10 %    Temperature: 25.10 *C
Humidity: 91.10 %    Temperature: 25.10 *C
Humidity: 91.10 %    Temperature: 25.10 *C
Humidity: 91.10 %    Temperature: 25.10 *C
Humidity: 91.10 %    Temperature: 25.10 *C
Humidity: 91.10 %    Temperature: 25.10 *C
Humidity: 91.10 %    Temperature: 25.10 *C
Humidity: 91.10 %    Temperature: 25.10 *C
Humidity: 91.00 %    Temperature: 25.20 *C
Humidity: 91.00 %    Temperature: 25.20 *C
Humidity: 91.00 %    Temperature: 25.20 *C
Humidity: 91.00 %    Temperature: 25.20 *C
Humidity: 91.00 %    Temperature: 25.20 *C
Humidity: 91.00 %    Temperature: 25.20 *C
Humidity: 91.00 %    Temperature: 25.20 *C
Humidity: 91.00 %    Temperature: 25.20 *C
Humidity: 91.00 %    Temperature: 25.20 *C
Humidity: 91.00 %    Temperature: 25.20 *C
Humidity: 91.00 %    Temperature: 25.20 *C
Humidity: 91.00 %    Temperature: 25.20 *C
Humidity: 90.90 %    Temperature: 25.20 *C
Humidity: 90.90 %    Temperature: 25.20 *C
Humidity: 90.90 %    Temperature: 25.20 *C
Humidity: 90.90 %    Temperature: 25.20 *C
Humidity: 90.90 %    Temperature: 25.20 *C
Humidity: 90.90 %    Temperature: 25.20 *C
Humidity: 90.90 %    Temperature: 25.20 *C
Humidity: 90.90 %    Temperature: 25.20 *C
Humidity: 90.90 %    Temperature: 25.20 *C
Humidity: 90.90 %    Temperature: 25.20 *C
Humidity: 90.90 %    Temperature: 25.20 *C
Humidity: 90.90 %    Temperature: 25.20 *C
Humidity: 90.90 %    Temperature: 25.20 *C
Humidity: 90.90 %    Temperature: 25.20 *C
Humidity: 90.90 %    Temperature: 25.20 *C
Humidity: 90.90 %    Temperature: 25.20 *C
Humidity: 90.80 %    Temperature: 25.20 *C
Humidity: 90.80 %    Temperature: 25.20 *C
Humidity: 90.80 %    Temperature: 25.20 *C
Humidity: 90.80 %    Temperature: 25.20 *C
Humidity: 90.80 %    Temperature: 25.20 *C
Humidity: 90.80 %    Temperature: 25.20 *C
Humidity: 90.80 %    Temperature: 25.20 *C
Humidity: 90.80 %    Temperature: 25.20 *C
Humidity: 90.80 %    Temperature: 25.20 *C
Humidity: 90.80 %    Temperature: 25.20 *C
Humidity: 90.80 %    Temperature: 25.20 *C
Humidity: 90.80 %    Temperature: 25.20 *C
Humidity: 90.70 %    Temperature: 25.20 *C
Humidity: 90.70 %    Temperature: 25.20 *C
Humidity: 90.70 %    Temperature: 25.20 *C
Humidity: 90.70 %    Temperature: 25.20 *C
Humidity: 90.70 %    Temperature: 25.20 *C
Humidity: 90.70 %    Temperature: 25.20 *C
Humidity: 90.70 %    Temperature: 25.20 *C
Humidity: 90.70 %    Temperature: 25.20 *C
Humidity: 90.70 %    Temperature: 25.20 *C
Humidity: 90.70 %    Temperature: 25.20 *C
Humidity: 90.70 %    Temperature: 25.20 *C
Humidity: 90.70 %    Temperature: 25.20 *C
Humidity: 90.70 %    Temperature: 25.20 *C
Humidity: 90.70 %    Temperature: 25.20 *C
Humidity: 90.70 %    Temperature: 25.20 *C
Humidity: 90.70 %    Temperature: 25.20 *C
Humidity: 90.60 %    Temperature: 25.20 *C
Humidity: 90.60 %    Temperature: 25.20 *C
Humidity: 90.60 %    Temperature: 25.20 *C
Humidity: 90.60 %    Temperature: 25.20 *C
Humidity: 90.60 %    Temperature: 25.20 *C
Humidity: 90.60 %    Temperature: 25.20 *C
Humidity: 90.60 %    Temperature: 25.20 *C
Humidity: 90.60 %    Temperature: 25.20 *C
Humidity: 90.50 %    Temperature: 25.20 *C
Humidity: 90.50 %    Temperature: 25.20 *C
Humidity: 90.50 %    Temperature: 25.20 *C
Humidity: 90.50 %    Temperature: 25.20 *C
Humidity: 90.50 %    Temperature: 25.30 *C
Humidity: 90.50 %    Temperature: 25.30 *C
Humidity: 90.50 %    Temperature: 25.30 *C
Humidity: 90.50 %    Temperature: 25.30 *C
Humidity: 90.50 %    Temperature: 25.20 *C
Humidity: 90.50 %    Temperature: 25.20 *C
Humidity: 90.50 %    Temperature: 25.20 *C
Humidity: 90.50 %    Temperature: 25.20 *C
Humidity: 90.50 %    Temperature: 25.30 *C
Humidity: 90.50 %    Temperature: 25.30 *C
Humidity: 90.50 %    Temperature: 25.30 *C
Humidity: 90.50 %    Temperature: 25.30 *C
Humidity: 90.40 %    Temperature: 25.30 *C
Humidity: 90.40 %    Temperature: 25.30 *C
Humidity: 90.40 %    Temperature: 25.30 *C
Humidity: 90.40 %    Temperature: 25.30 *C
Humidity: 90.40 %    Temperature: 25.30 *C
Humidity: 90.40 %    Temperature: 25.30 *C
Humidity: 90.40 %    Temperature: 25.30 *C
Humidity: 90.40 %    Temperature: 25.30 *C
Humidity: 90.40 %    Temperature: 25.30 *C
Humidity: 90.40 %    Temperature: 25.30 *C
Humidity: 90.40 %    Temperature: 25.30 *C
Humidity: 90.40 %    Temperature: 25.30 *C
Humidity: 90.40 %    Temperature: 25.30 *C
Humidity: 90.40 %    Temperature: 25.30 *C
Humidity: 90.40 %    Temperature: 25.30 *C
Humidity: 90.40 %    Temperature: 25.30 *C
Humidity: 90.30 %    Temperature: 25.30 *C
Humidity: 90.30 %    Temperature: 25.30 *C
Humidity: 90.30 %    Temperature: 25.30 *C
Humidity: 90.30 %    Temperature: 25.30 *C
Humidity: 90.30 %    Temperature: 25.30 *C
Humidity: 90.30 %    Temperature: 25.30 *C
Humidity: 90.30 %    Temperature: 25.30 *C
Humidity: 90.30 %    Temperature: 25.30 *C
Humidity: 90.30 %    Temperature: 25.30 *C
Humidity: 90.30 %    Temperature: 25.30 *C
Humidity: 90.30 %    Temperature: 25.30 *C
Humidity: 90.30 %    Temperature: 25.30 *C
Humidity: 90.30 %    Temperature: 25.30 *C
Humidity: 90.30 %    Temperature: 25.30 *C
Humidity: 90.30 %    Temperature: 25.30 *C
Humidity: 90.30 %    Temperature: 25.30 *C
Humidity: 90.30 %    Temperature: 25.30 *C
Humidity: 90.30 %    Temperature: 25.30 *C
Humidity: 90.30 %    Temperature: 25.30 *C
Humidity: 90.30 %    Temperature: 25.30 *C
Humidity: 90.20 %    Temperature: 25.30 *C
Humidity: 90.20 %    Temperature: 25.30 *C
Humidity: 90.20 %    Temperature: 25.30 *C
Humidity: 90.20 %    Temperature: 25.30 *C
Humidity: 90.20 %    Temperature: 25.30 *C
Humidity: 90.20 %    Temperature: 25.30 *C
Humidity: 90.20 %    Temperature: 25.30 *C
Humidity: 90.20 %    Temperature: 25.30 *C
Humidity: 90.20 %    Temperature: 25.30 *C
Humidity: 90.20 %    Temperature: 25.30 *C
Humidity: 90.20 %    Temperature: 25.30 *C
Humidity: 90.20 %    Temperature: 25.30 *C
Humidity: 90.20 %    Temperature: 25.30 *C
Humidity: 90.20 %    Temperature: 25.30 *C
Humidity: 90.20 %    Temperature: 25.30 *C
Humidity: 90.20 %    Temperature: 25.30 *C
Humidity: 90.20 %    Temperature: 25.30 *C
Humidity: 90.20 %    Temperature: 25.30 *C
Humidity: 90.20 %    Temperature: 25.30 *C
Humidity: 90.20 %    Temperature: 25.30 *C
Humidity: 90.20 %    Temperature: 25.30 *C
Humidity: 90.20 %    Temperature: 25.30 *C
Humidity: 90.20 %    Temperature: 25.30 *C
Humidity: 90.20 %    Temperature: 25.30 *C
Humidity: 90.20 %    Temperature: 25.30 *C
Humidity: 90.20 %    Temperature: 25.30 *C
Humidity: 90.20 %    Temperature: 25.30 *C
Humidity: 90.20 %    Temperature: 25.30 *C
Humidity: 90.10 %    Temperature: 25.30 *C
Humidity: 90.10 %    Temperature: 25.30 *C
Humidity: 90.10 %    Temperature: 25.30 *C
Humidity: 90.10 %    Temperature: 25.30 *C
Humidity: 90.10 %    Temperature: 25.30 *C
Humidity: 90.10 %    Temperature: 25.30 *C
Humidity: 90.10 %    Temperature: 25.30 *C
Humidity: 90.10 %    Temperature: 25.30 *C
Humidity: 90.10 %    Temperature: 25.30 *C
Humidity: 90.10 %    Temperature: 25.30 *C
Humidity: 90.10 %    Temperature: 25.30 *C
Humidity: 90.10 %    Temperature: 25.30 *C
Humidity: 90.10 %    Temperature: 25.30 *C
Humidity: 90.10 %    Temperature: 25.30 *C
Humidity: 90.10 %    Temperature: 25.30 *C
Humidity: 90.10 %    Temperature: 25.30 *C
Humidity: 90.10 %    Temperature: 25.30 *C
Humidity: 90.10 %    Temperature: 25.30 *C
Humidity: 90.10 %    Temperature: 25.30 *C
Humidity: 90.10 %    Temperature: 25.30 *C
Humidity: 90.10 %    Temperature: 25.30 *C
Humidity: 90.10 %    Temperature: 25.30 *C
Humidity: 90.10 %    Temperature: 25.30 *C
Humidity: 90.10 %    Temperature: 25.30 *C
Humidity: 90.00 %    Temperature: 25.30 *C
Humidity: 90.00 %    Temperature: 25.30 *C
Humidity: 90.00 %    Temperature: 25.30 *C
Humidity: 90.00 %    Temperature: 25.30 *C
Humidity: 90.00 %    Temperature: 25.30 *C
Humidity: 90.00 %    Temperature: 25.30 *C
Humidity: 90.00 %    Temperature: 25.30 *C
Humidity: 90.00 %    Temperature: 25.30 *C
Humidity: 90.00 %    Temperature: 25.30 *C
Humidity: 90.00 %    Temperature: 25.30 *C
Humidity: 90.00 %    Temperature: 25.30 *C
Humidity: 90.00 %    Temperature: 25.30 *C
Humidity: 90.00 %    Temperature: 25.30 *C
Humidity: 90.00 %    Temperature: 25.30 *C
Humidity: 90.00 %    Temperature: 25.30 *C
Humidity: 90.00 %    Temperature: 25.30 *C
Humidity: 89.70 %    Temperature: 25.30 *C
Humidity: 89.70 %    Temperature: 25.30 *C
Humidity: 89.70 %    Temperature: 25.30 *C
Humidity: 89.70 %    Temperature: 25.30 *C
Humidity: 89.20 %    Temperature: 25.30 *C
Humidity: 89.20 %    Temperature: 25.30 *C
Humidity: 89.20 %    Temperature: 25.30 *C
Humidity: 89.20 %    Temperature: 25.30 *C
Humidity: 86.50 %    Temperature: 25.30 *C
Humidity: 86.50 %    Temperature: 25.30 *C
Humidity: 86.50 %    Temperature: 25.30 *C
Humidity: 86.50 %    Temperature: 25.30 *C
Humidity: 83.30 %    Temperature: 25.20 *C
Humidity: 83.30 %    Temperature: 25.20 *C
Humidity: 83.30 %    Temperature: 25.20 *C
Humidity: 83.30 %    Temperature: 25.20 *C
Humidity: 82.50 %    Temperature: 25.30 *C
Humidity: 82.50 %    Temperature: 25.30 *C
Humidity: 82.50 %    Temperature: 25.30 *C
Humidity: 82.50 %    Temperature: 25.30 *C
Humidity: 80.90 %    Temperature: 25.30 *C
Humidity: 80.90 %    Temperature: 25.30 *C
Humidity: 80.90 %    Temperature: 25.30 *C
Humidity: 80.90 %    Temperature: 25.30 *C
Humidity: 79.80 %    Temperature: 25.30 *C
Humidity: 79.80 %    Temperature: 25.30 *C
Humidity: 79.80 %    Temperature: 25.30 *C
Humidity: 79.80 %    Temperature: 25.30 *C
Humidity: 77.10 %    Temperature: 25.30 *C
Humidity: 77.10 %    Temperature: 25.30 *C
Humidity: 77.10 %    Temperature: 25.30 *C
Humidity: 77.10 %    Temperature: 25.30 *C
Humidity: 75.70 %    Temperature: 25.20 *C
Humidity: 75.70 %    Temperature: 25.20 *C
Humidity: 75.70 %    Temperature: 25.20 *C
Humidity: 75.70 %    Temperature: 25.20 *C
Humidity: 73.10 %    Temperature: 25.20 *C
Humidity: 73.10 %    Temperature: 25.20 *C
Humidity: 73.10 %    Temperature: 25.20 *C
Humidity: 73.10 %    Temperature: 25.20 *C
Humidity: 73.50 %    Temperature: 25.20 *C
Humidity: 73.50 %    Temperature: 25.20 *C
Humidity: 73.50 %    Temperature: 25.20 *C
Humidity: 73.50 %    Temperature: 25.20 *C
Humidity: 74.00 %    Temperature: 25.10 *C
Humidity: 74.00 %    Temperature: 25.10 *C
Humidity: 74.00 %    Temperature: 25.10 *C
Humidity: 74.00 %    Temperature: 25.10 *C
Humidity: 72.80 %    Temperature: 25.10 *C
Humidity: 72.80 %    Temperature: 25.10 *C
Humidity: 72.80 %    Temperature: 25.10 *C
Humidity: 72.80 %    Temperature: 25.10 *C
Humidity: 70.10 %    Temperature: 25.10 *C
Humidity: 70.10 %    Temperature: 25.10 *C
Humidity: 70.10 %    Temperature: 25.10 *C
Humidity: 70.10 %    Temperature: 25.10 *C
Humidity: 68.10 %    Temperature: 25.10 *C
Humidity: 68.10 %    Temperature: 25.10 *C
Humidity: 68.10 %    Temperature: 25.10 *C
Humidity: 68.10 %    Temperature: 25.10 *C
Humidity: 66.80 %    Temperature: 25.10 *C
Humidity: 66.80 %    Temperature: 25.10 *C
Humidity: 66.80 %    Temperature: 25.10 *C
Humidity: 66.80 %    Temperature: 25.10 *C
Humidity: 66.70 %    Temperature: 25.10 *C
Humidity: 66.70 %    Temperature: 25.10 *C
Humidity: 66.70 %    Temperature: 25.10 *C
Humidity: 66.70 %    Temperature: 25.10 *C
Humidity: 66.10 %    Temperature: 25.10 *C
Humidity: 66.10 %    Temperature: 25.10 *C
Humidity: 66.10 %    Temperature: 25.10 *C
Humidity: 66.10 %    Temperature: 25.10 *C
Humidity: 65.80 %    Temperature: 25.00 *C
Humidity: 65.80 %    Temperature: 25.00 *C
Humidity: 65.80 %    Temperature: 25.00 *C
Humidity: 65.80 %    Temperature: 25.00 *C
Humidity: 65.50 %    Temperature: 25.00 *C
Humidity: 65.50 %    Temperature: 25.00 *C
Humidity: 65.50 %    Temperature: 25.00 *C
Humidity: 65.50 %    Temperature: 25.00 *C
Humidity: 65.20 %    Temperature: 25.00 *C
Humidity: 65.20 %    Temperature: 25.00 *C
Humidity: 65.20 %    Temperature: 25.00 *C
Humidity: 65.20 %    Temperature: 25.00 *C
Humidity: 64.70 %    Temperature: 25.00 *C
Humidity: 64.70 %    Temperature: 25.00 *C
Humidity: 64.70 %    Temperature: 25.00 *C
Humidity: 64.70 %    Temperature: 25.00 *C
Humidity: 63.20 %    Temperature: 25.00 *C
Humidity: 63.20 %    Temperature: 25.00 *C
Humidity: 63.20 %    Temperature: 25.00 *C
Humidity: 63.20 %    Temperature: 25.00 *C
Humidity: 63.30 %    Temperature: 25.00 *C
Humidity: 63.30 %    Temperature: 25.00 *C
Humidity: 63.30 %    Temperature: 25.00 *C
Humidity: 63.30 %    Temperature: 25.00 *C
Humidity: 62.90 %    Temperature: 24.90 *C
Humidity: 62.90 %    Temperature: 24.90 *C
Humidity: 62.90 %    Temperature: 24.90 *C
Humidity: 62.90 %    Temperature: 24.90 *C
Humidity: 63.00 %    Temperature: 24.90 *C
Humidity: 63.00 %    Temperature: 24.90 *C
Humidity: 63.00 %    Temperature: 24.90 *C
Humidity: 63.00 %    Temperature: 24.90 *C
Humidity: 63.50 %    Temperature: 24.90 *C
Humidity: 63.50 %    Temperature: 24.90 *C
Humidity: 63.50 %    Temperature: 24.90 *C
Humidity: 63.50 %    Temperature: 24.90 *C
Humidity: 64.50 %    Temperature: 24.90 *C
Humidity: 64.50 %    Temperature: 24.90 *C
Humidity: 64.50 %    Temperature: 24.90 *C
Humidity: 64.50 %    Temperature: 24.90 *C
Humidity: 65.10 %    Temperature: 24.90 *C
Humidity: 65.10 %    Temperature: 24.90 *C
Humidity: 65.10 %    Temperature: 24.90 *C
Humidity: 65.10 %    Temperature: 24.90 *C
Humidity: 64.80 %    Temperature: 24.80 *C
Humidity: 64.80 %    Temperature: 24.80 *C
Humidity: 64.80 %    Temperature: 24.80 *C
Humidity: 64.80 %    Temperature: 24.80 *C
Humidity: 64.40 %    Temperature: 24.80 *C
Humidity: 64.40 %    Temperature: 24.80 *C
Humidity: 64.40 %    Temperature: 24.80 *C
Humidity: 64.40 %    Temperature: 24.80 *C